WASHINGTON (Sputnik) — While officials stress that the number of flyable aircraft fluctuates daily, the downward trends have alarmed Marine leaders as well as members of Congress, according to the report.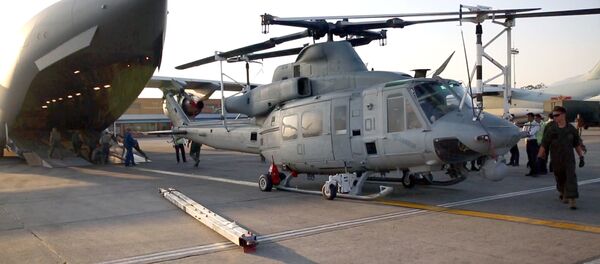 "Mission-capable rates for all but one of the Marine Corps' 12 fixed-wing, rotary and tiltrotor airframes have fallen since the end of fiscal 2009," the report stated on Tuesday, using data obtained by the US Freedom of Information Act.
Especially hard hit are squadrons of CH-53E Super Stallion helicopters, with less than 29 percent of the Marine's 147 aircraft airworthy, the publication said.
For a typical squadron of nine helicopters, only three were available on any given day.

Marine Aircraft Group 29 Commander Col. Sean Salene was quoted as saying in the report that repairs have been hampered by a shortage of spare parts or a need for fixes that the squadron does not have the ability to provide.
On April 20, the publication reported, less than one-third of the Corps 276 F/A-18 Hornet fighter jets were able to fly. That compares with a 73 percent readiness rate in 2009.