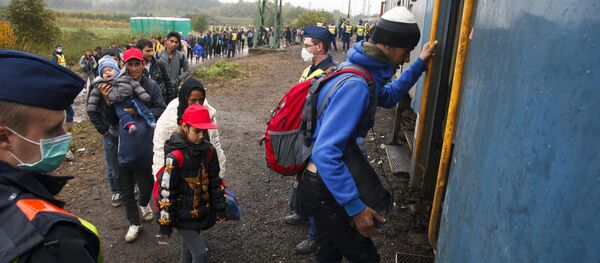 MOSCOW (Sputnik) — On Tuesday, the Centre Party, which holds just 27 out of the total 101 parliamentary seats in the Estonian parliament, put forward a bill calling for a nation-wide vote on the introduction of the refugee quota.
"Initiating the draft on holding the referendum we thus fulfilled the decision of the board of our party, knowing well that in the Parliament we only may count on the support of opposition parties, and the relevant decision will not be accepted with a probability of 99%," Mihhail Stalnuhhin said.
The main aim of the motion was to attract wider attention to the migration issue in Estonia, he added.
In September 2015, the European Commission called on EU member states to redistribute 160,000 asylum seekers from Africa and the Middle East throughout the bloc over a two-year period. Brussels' quota system for refugee admission took into account demographic, social and economic indicators for each country. Estonia has pledged to accommodate 550 migrants under the scheme.
Last month, the Estonian authorities announced that the country was ready to accept up to 200 Syrian refugees directly from Turkey.