Ignoring global criticism and toughened economic sanctions imposed against the isolated country as a result of the tests, Kim said the "historic" January nuclear test and a rocket launch of a satellite into space later in February was a great success and had brought "unprecedented" results.
"In this year of the seventh party congress, the military and the people accomplished the great success in the first hydrogen bomb test and the launch of an Earth observation satellite, Kwangmyongsong-4, to brilliantly illuminate the prowess of Juche Joson," he said in his opening speech.
Earlier in the day some 3,000 military and party delegates gathered at the seventh congress in Pyongyang, the first such political gathering since 1980. There was no live broadcast of the meeting, but North Korea's state television KRT displayed images of the 33-year-old leader and priased the achievements of his country's military as evidence of its "greatness and prestige as a nuclear power state."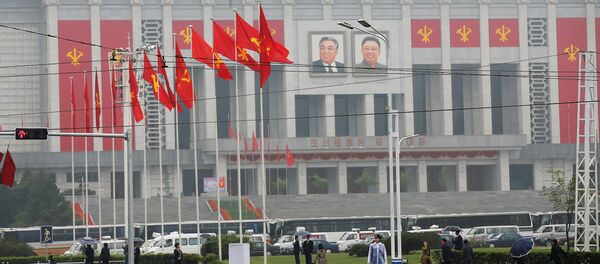 The rare political gathering was reportedly aimed at getting formal approval for leader Kim's new ideology, "Byongjin," which presupposes the simultaneous development of the country's economy and nuclear weapons, contrary to the "Songun" — "military first" — policy of his late father, Kim Jong-il.
Kim said before the meeting that during the conference he will lay out "the brilliant blueprint that will advance the final victory of our revolution." The congress, held at the April 25 House of Culture, is expected to last four to five days. Foreign journalists invited to cover the event were not permitted inside the building.