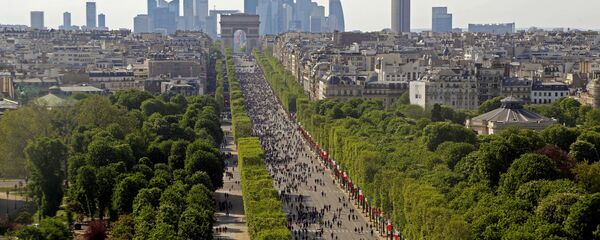 WASHINGTON (Sputnik) – Hundreds of people participated in the "Immortal regiment" march in Washington, DC on the eve of the Victory Day celebrations to commemorate the 71st anniversary of victory over the Nazi Germany in World War II.
Washington hosted the Immortal Regiment for the very first time this year.
Yekaterina Hill, an organizer of the event in the US capital, told Sputnik that a lot more people came than the organizers had expected.
"I started preparing this event about three weeks ago through the Facebook page. We did not expect that so many people will join us. And I am so happy that so many have come with their children, parents and grandparents. This is a uniting event," Hill said.
Most people were holding the portraits of their relatives who participated in the WWII.
Yevgeniy Nosov and his wife Mrs. Nosova were carrying the photographs of Mrs. Nosova's parents held Leningrad's defense during the blockade.
"My mom and I survived, but my father was heavily wounded and died from the injuries," she told Sputnik. "It is so important for us that we were allowed to honor our parents today here in Washington."
Sergei Kurbassky held the photo of his father.
"I wanted to walk with him today, and showed people that my father was fighting in that war," Kurbassky told Sputnik.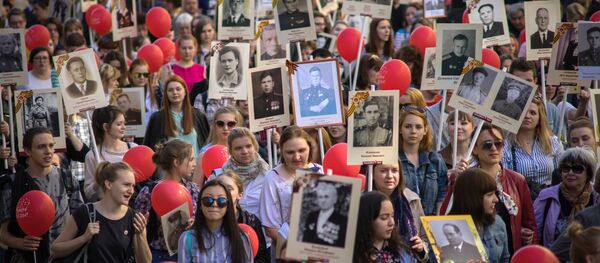 People marched down the streets of Washington from the White House to World War II Memorial where they laid flowers and wreaths.
The march was accompanied by the songs of the WWII period sung by the participants to the music played by the local Russian artists.
This year, on May 7-8, nine US cities, including Boston, Chicago, Denver, Houston, New York, Orlando, San Francisco, Seattle and Washington hosted the "Immortal Regiment" marches.
The Immortal Regiment is a patriotic initiative that commemorates those who fought against Nazi Germany during World War II in marches held across Russia and other countries on May 9, celebrated as Victory Day in Russia and the former Soviet republics. During the marches, people carry photographs of their ancestors who participated in the war.
The first US march was held in the city of New York on May 3, 2015.
In Russia, some 500,000 people gathered last year to march through Moscow's Red Square, along with Russian President Vladimir Putin, while the total number of participants of the action was estimated at 12 million across the country.
The number of Soviet Union casualties in WWII are estimated to have exceeded 27 million. The military casualties exceeded 8.7 million, which is more than a half of the total allied death toll.