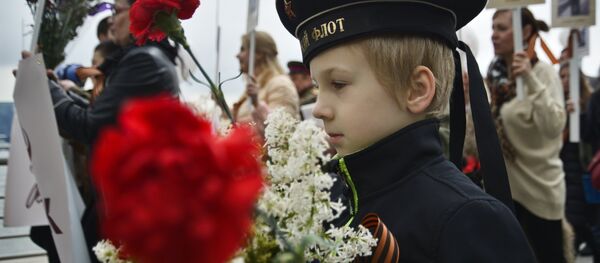 YUZHNO-SAKHALINSK (Sputnik) – Around 3,000 residents of the Russian Far East Sakhalin Region kicked off commemorative events of Victory Day in World War II with "Immortal Regiment" marches, a RIA Novosti correspondent reported Monday.
The procession in Yuzhno-Sakhalinsk began at 09:00 a.m. (22:00 GMT) outside the government house and advanced toward the eternal flame at a square where a military parade dedicated to the 71st anniversary of Victory Day is underway.
During the "Immortal Regiment" marches, people carry photographs of their ancestors who fought or worked at the home front in World War II.
Some 12 million people have taken part in the Immortal Regiment marches throughout Russia in 2015.
This year, commemorative Immortal Regiment marches are held in the United States, Canada, Germany, France, the United Kingdom, Spain, Switzerland, Estonia, the Czech Republic, Lithuania, and many other countries.