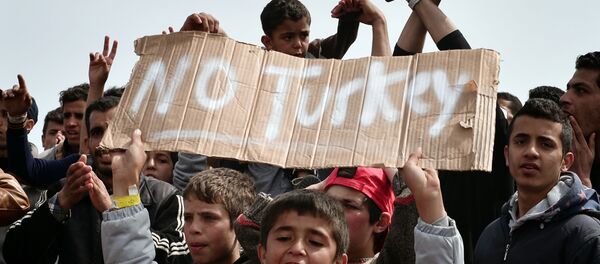 MOSCOW (Sputnik)
–
The difficulties in the implementation of migrant swap deal reached in March between Brussels and Ankara creates "open questions," Austrian Ambassador to Russia Emil Brix said Monday.
"The problem is that at the moment it is only with the help of partners that we can have a working border control of the external borders of the European Union. This is the reason why the negotiations with Turkey took place. This is the reason why we found this agreement, which relies on the good will of both sides. There are still open questions as far as implementation is concerned," Brix told RIA Novosti in an interview.
The issue of implementation of the agreement was under discussion in the European Union, but it was hard to say, whether the discussions would result in "an acceptable outcome" within the near future, he added.
According to the ambassador, Brussels should not rely on its partners too much.
"This is a task of the European Union itself to make sure that we can control and regulate the influx of migrants to Europe," Brix said.
Europe has been beset by a refugee crisis, with hundreds of thousands of undocumented migrants fleeing their crisis-torn countries of origin, trying to escape violence and poverty. The majority of them come to Europe across the Aegean Sea from Turkey.
In mid-March, Brussels and Ankara agreed on a deal under which Turkey pledged to take back all undocumented migrants who arrive in the European Union through its territory in exchange for Syrian refugees accommodated in Turkey, on a one-for-one basis. In return, the 28-member bloc pledged to accelerate the Turkish EU accession bid and introduce a visa-free regime between Turkey and the Schengen area.
Earlier in May, the European Commission recommended that the European Parliament vote on visa-free regime for Turkey once the country meets all 72 conditions required by Brussels.