ST. PETERSBURG (Sputnik) – Russia and Thailand aim to increase bilateral trade to $10 billion in the future, Russian Prime Minister Dmitry Medvedev said Wednesday.
"Despite the fact that Thailand is our second biggest ASEAN trading partner, the volume of [Russian-Thai] trade  has decreased. Of course, that is connected to the current price environment and the exchange rate of the [Russian] ruble. But in the future, we must reach the goal agreed during my trip to the Kingdom of Thailand — $10-billion annual trade," the prime minister said following talks with his Thai counterpart Prayut Chan-o-cha.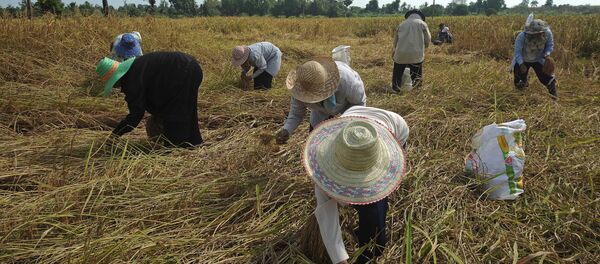 On Tuesday, Thai Minister of Commerce Apiradi Tantraporn said Russia and Thailand wanted to achieve a fivefold increase in bilateral trade over the next five years.
She also noted that Thailand regards increases in bilateral trade and investment, developing cooperation initiatives between ASEAN and Russia as well as Thailand and the Eurasian Economic Union as key priorities.
In 2015, the volume of Russian-Thai trade reached $2.35 billion.