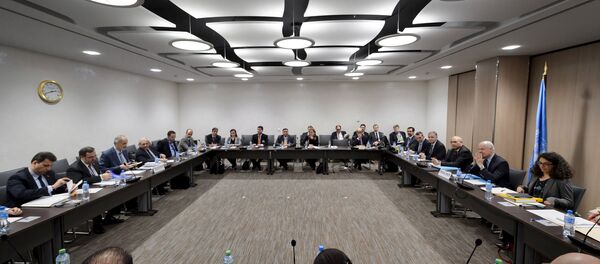 GENEVA (Sputnik)
–
On Wednesday, de Mistura said that the timing for the next round of reconciliation talks had not been decided yet, noting that the organizers kept in mind the upcoming month of Ramadan, while defining the date.
"We should respect Ramadan and at the same time to continue the negotiations," de Mistura told reporters.
He also expressed hope that the participants of the negotiations would continue the discussions, despite the holy month.
Syria has been in a state of civil war since 2011, with government forces loyal to Syrian President Bashar Assad fighting several opposition factions and militant groups.
The parties to the conflict try to solve the crisis via proximity negotiations, brokered by the United Nations, in the Swiss city of Geneva. Four delegations are taking part in the multi-round talks – the government delegation, the Riyadh-formed High Negotiations Committee (HNC), the opposition group that emerged following talks in Moscow, Cairo and Astana and the Hmeimim delegation of internal opposition.
The ninth month of the Islamic calendar, which this year runs from June 6 to July 5, Ramadan, is marked by fasting during the daytime and is considered a time for spiritual reflection and increased devotion.