Between January and March 2016, Soros Fund Management established by George Soros increased investments in gold market assets, according to the company's data.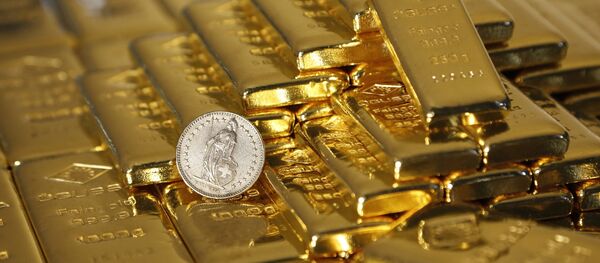 Particularly, the fund bought shares worth $264 million in Canada's company Barrick Gold, one of the world's leading gold producers. It also bought an option for nearly 1.05 million shares ($123 million) in SPDR Gold Trust, the world's biggest gold exchange fund.
Soros also made bets on a drop in the US stock market, having decreased investments in stock assets. In the first quarter, the value of Soros Fund's exchange-traded assets dropped by 37 percent, to $3.5 billion.
Other big investors have followed Soros' course toward the yellow metal. Former Soros partner billionaire trader Stanley Druckenmiller said in early-May that gold became his favorite asset in a time of low interest rates.
According to media reports, Druckenmiller, whose net worth is estimated at $4.4 billion, is making long-term investments in gold while holding short positions on US companies' shares. 
In January-March, investment fund Jana Partners managing assets worth $11.6 billion invested in gold for the first time in 12 months, having bought shares in SPDR Gold Trust for $5.9 million.
CI Investments Inc., the investment subsidiary of Canada's financial giant CI Financial, bought 2.81 million shares of SPDR Gold Trust. It also purchased 1.5 million shares in Barrick Gold.

In the first quarter of 2016, the price of gold jumped by 16.2 percent, from $1060.5 to $1232.4 per a troy ounce, the biggest since 1986. Between the beginning of the year and May, gold rose by 19 percent, to $1280.4 per a troy ounce. In 2016, Barrick Gold shares rose by 2.5 times, from $7.38 to $19.45.
The rising price and demand for gold is the result of investors moving money into safe assets, after the situation in the US stock market worsened in the beginning of the year, portfolio manager at the asset management company BKS Nikita Emelyanov told RBK.
Another reason is that big business is skeptical about the US Federal Reserve tightening its monetary policy. Market players do not expect that the Fed will hike interest rates in the near future.
The jump in the demand for gold was also provoked by hedge-funds which significantly increased investments in the yellow metal, Alexei Belkin, manager of investment holding Finam, said.
According to him, smaller market players followed the trend which resulted in a rally for gold futures and gold-producers' shares.