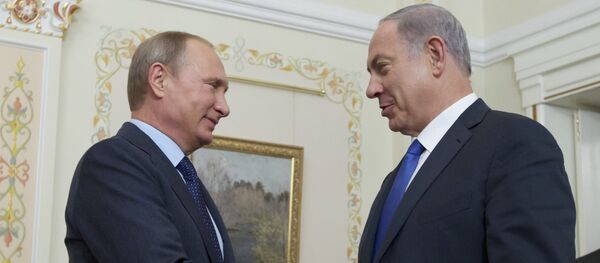 MOSCOW (Sputnik) — On Monday, Netanyahu arrived in Moscow for a three-day official visit dedicated to the 25th anniversary of the reestablishment of diplomatic relations between Israel and Russia. This is the third Israeli prime minister's visit to the country since September 2015.
"First and foremost there is the atmosphere of trust in bilateral relations, there is a very constructive and trusting manner of communication between the president and the prime minister. Regarding the ongoing visit, it had been planned for a long time, and previous communication had an extraordinary character. The need for this dialogue appeared, so to speak, in connection with the current issues in the region," Peskov said answering the question on the reason behind the frequent visits of Netanyahu to Russia.
The two politicians will discuss the implementation of agreements reached within the framework of Netanyahu's visit to Moscow on April 21. Special attention is expected to be paid to the relevant issues of bilateral cooperation, as well as the pressing international issues.