MOSCOW (Sputnik) — The second day's forum session, called "New media: Guaranteeing freedom of information," will address issues of censorship and will see a speech by German journalist Hubert Seipel, the author of the book "Putin. Inside View of Power," among other speakers. The day will conclude with the forum's third session, titled "End of the monopoly: The open information age," and will focus on the freedom of information dissemination.
The Russian president is set to make an appearance at the forum on Tuesday. Putin is expected to congratulate the journalist staff and the participants of the forum on the 75-year anniversary of the establishment of the Soviet Information Bureau, which later evolved into Rossiya Segodnya.
Assange's speech will be delivered remotely via a video conference from the Ecuadorian Embassy in London, where he has been residing since August 2012.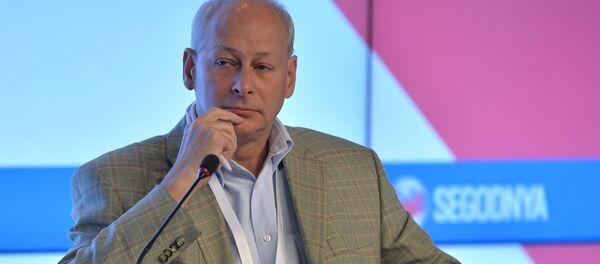 Tuesday's sessions will be attended by Russia's Communications Minister Nikolai Nikiforov, Sputnik news agency International Broadcasting Head Anton Anisimov, Al Arabiya English Editor-in-Chief Faisal Abbas, Athens News Agency Macedonian Press Agency (ANA-MPA) President Michail Psylos, Xinhua News Agency Asia-Europe Bureau Director Weiguo Fan, Japan Broadcasting Corporation Executive Commentator Ichiyo Ishikawa, as well as a number of international journalists.
The New Era of Journalism: Farewell to Mainstream international media forum is taking place on June 6-7. The event deals with the changing nature of contemporary journalism and is attended by media experts from over 30 countries.
On Monday, the forum's first session focused on the rise of alternative media in an increasingly multipolar world and the changing role of mainstream media as it loses information monopoly, as well as issues of violence against reporters and government and business manipulation of media. Sputnik news agency and radio signed cooperation agreements with two leading Middle Eastern media outlets, while Al Mayadeen TV Chairman Ghassan Ben Jeddou called for Russian and Arab media to deepen cooperation to counteract Western media monopoly.