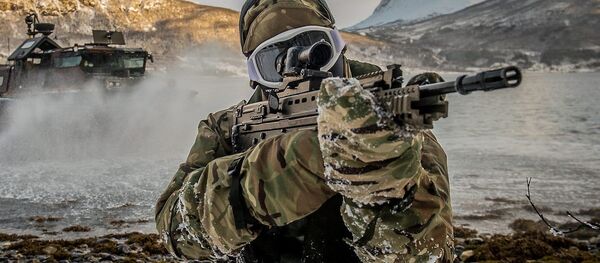 Washington's goal is to sow trouble in Europe and pressure its European allies into spending more on the US-led NATO bloc. By building new NATO military bases in the EU, Washington seeks to bolster the Alliance's influence on the continent, the French journalist Victor Ayoli notes in his
article
for Agora Vox.
The journalist points out that NATO has recently kicked off its BALTOPS 16 and Saber Strike 16 joint military drills in close proximity to the Russian north-western border.
Saber Strike 16, a US Army Europe-led cooperative training exercise, has brought together 13 participating nations including host countries (Estonia, Latvia and Lithuania), NATO members Denmark, France, Germany, Luxembourg, Norway, Poland, Slovenia, the United Kingdom and the United States, and ostensibly neutral Finland.
Moscow has repeatedly voiced its serious concerns over the expansion of NATO's presence in Eastern Europe and the bloc's ongoing enlargement toward Russia's borders.
"NATO is a war machine having no other use — as the Warsaw Pact had been dissolved long ago — than to serve exclusively the interests of the US financial elite and multinational corporations that are seeking global hegemony. Could you imagine what the Russo-NATO standoff could lead to? Do you think it would be limited to a few local strikes? It's a naïve and even stupid assumption: NATO, like Russia, has an apocalyptic nuclear arsenal," Ayoli underscores.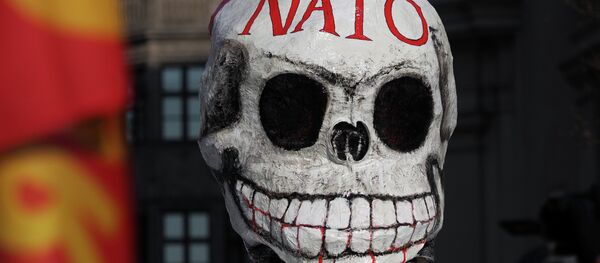 The French journalist wonders whether there is a real necessity to carry out these provocative maneuvers on Russia's doorstep.
"Is it reasonable? And whom do [these drills] intend to scare? Vladimir Putin?… Could anyone scare a bear with a pocket knife?" he asks.
Ayoli underscores that while Washington and its subservient vassals portray Russia as a significant menace to the EU, Moscow does not pose any threat to the Europeans.
"Russia is no enemy to Europe," Victor Ayoli stresses.
NATO — the obsolete weapon of the rotten hegemonic US system — is pushing the world towards another world war, he warns.
© AP Photo / Mindaugas Kulbis
Members of the U.S. Army of the Pennsylvania National Guard unload equipment as they arrive at a airport in Vilnius, Lithuania, Sunday, June 5, 2016.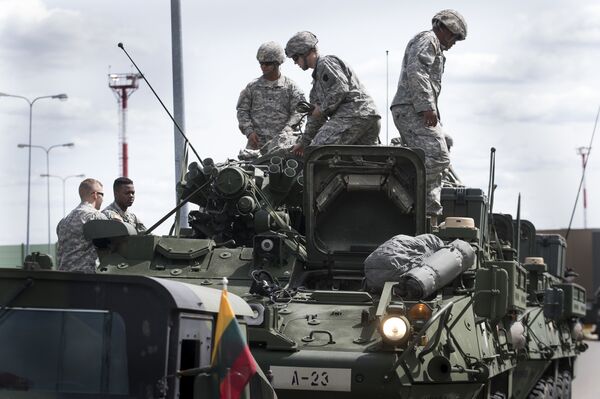 Members of the U.S. Army of the Pennsylvania National Guard unload equipment as they arrive at a airport in Vilnius, Lithuania, Sunday, June 5, 2016.
© AP Photo / Mindaugas Kulbis
Unsurprisingly, the Russians are taking these maneuvers seriously.
Indeed, "if you see this through Russia's eyes, there has not been any formidable military force amassed on its borders since the German invasion in 1941," Professor Stephen F. Cohen noted in one of his interviews on the John Batchelor Show.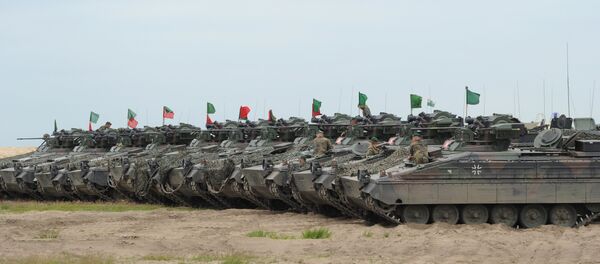 Citing the May
analytical report
posted by the anonymous blogger 'The Saker' on how Moscow is preparing to protect its national interests and secure its borders to prevent a repeat of the Wehrmacht's Operation Barbarossa invasion in 1941, Ayoli calls attention to Russia's ongoing military modernization.
First of all, Moscow is recreating its First Guards Tank Army. Currently it is equipped with T-72B3 and T-80 main battle tanks, but they will be replaced by the brand new T-14 Armata tank. Likewise, the Army's infantry fighting vehicles (IFV) and armored personnel carriers (APC) will be replaced with newer, more advanced machines. From the air, these units will be backed by Mi-28 and Ka-52 attack helicopters.
Secondly, Russia has recently deployed its new Iskander-M operational tactical missile systems. The system is "extremely accurate, it has advanced anti-ABM capabilities, it flies at hypersonic speeds and is practically undetectable on the ground."
Thirdly, while the tanks, IFVs and Iskander-M pose no deterrent to the US, the RS-28 "Sarmat" (SS-X-30 by NATO classification) would definitely prompt the US and NATO hawks to think twice, according to the journalist.
"The Sarmat is nothing short of amazing. It will be capable of carrying 10-15 MIRVed warheads which will be delivered in a so-called 'depressed' (suborbital) trajectory and which will remain maneuverable at hypersonic speeds," The Saker, a US-based European military analyst, wrote in his blog in late May.
But that is not all: the Russian Armed Forces also boast Status-6 underwater torpedo systems, the Kalibr cruise-missiles which have proven themselves in the war in Syria, the Barguzins — modernized elusive "nuclear trains" equipped with ICBMs, etc.
"Russians are ordinary people. They are afraid of war and they really want to avoid it. The last one cost [the Soviets] more than twenty-eight million lives. But once lured into war, they fight it to the bitter end. This unique trait of the Russian national character the West has misunderstood countless times in the last 1,000 years. Time and again, Europeans have attacked Russia, dragging themselves into a fierce fight they never imagined even in their worst nightmares. Napoleon and Hitler dug their own graves. Therefore, the Russians say: 'Russia never starts wars, it only ends them'," Ayoli emphasizes.
The journalist warns that NATO is pushing Europe toward a new conflict with Russia. According to Ayoli, if just one European country leaves the Alliance, the bloc will fall apart at the seams.
It is time for France to withdraw from the dangerous Alliance and accelerate its rapprochement with Moscow. Other countries, most notably Germany, will most likely follow in Paris' footsteps, creating a new powerful Axis: Paris — Berlin — Moscow, he concludes.