Dressed in military uniform, Zapletal approached the middle of the road and took off his pants, trying to block the way to US military vehicles.
The man was subsequently detained by police and charged with organizing mass disturbances. The veteran who served as part of the international police mission in the former Yugoslavia may face imprisonment of up to three years.
"My actions were of political nature. They demonstrate the disagreement of the veteran of the armed forces who served in NATO structures. I believe that this convoy, which was moving across our territory to the Baltic countries, is a provocation, and these exercises are a provocation against Russia, aimed at fueling the conflict," the veteran told Sputnik.
The US military convoy entered the territory of the Czech Republic to participate in the Saber Strike-2016 exercises in the Baltic states. Over 10,000 service personnel from 13 NATO and partner nations are taking part in the drills. Participating nations include the three Baltic states, Denmark, Finland, France, Germany, Luxembourg, Norway, Poland, Slovenia, the United Kingdom and the United States.
"Of course, it was not easy to get out on the roadway in front of an entire column of military vehicles. It is risky in any case. One does not know what orders were given to these soldiers. Nevertheless, I was ready to risk it, to protect a large number of people," Zapletal said.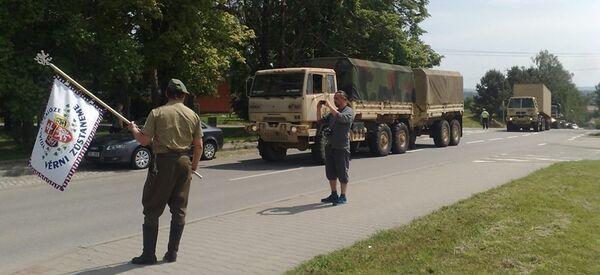 The evolution of his ideas about the true purpose of the US military presence in Europe took place when he was serving as part of the international police mission in the former Yugoslavia. He gradually realized that NATO forces rather resembled occupation forces, than a peacebuilding mission.
The veteran also said that he was pleasantly surprised by the positive public reaction his action has caused. Many people supported him on social networks and sent him friend requests in Facebook.
"I was contacted by people from Brazil, Serbia, Russia, military veterans from Italy and France, and ordinary people from the Czech Republic. This support was enormous, and, of course, it gave me strength," Zapletal confessed
At first his action was considered a wrongdoing, but then it was reclassified as the organization of mass disturbances with the possibility of imprisonment of up to 3 years.
"The case is currently under investigation, the questioning will take place in a week with the participation of a lawyer. Let's see what will happen next. In any case, I am ready to fight for the truth," the veteran said.