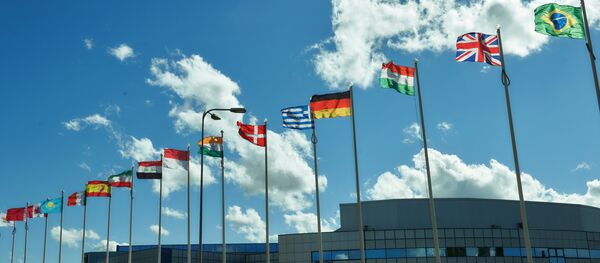 The list of VIP guests includes the Italian and Maltese Prime Ministers and 35 Cabinet Ministers, along with top executives of 500 foreign and 600 Russian companies.
President Vladimir Putin is scheduled to confer with European Commission President Jean-Claude Junker as part of the three-day forum.
Russia's isolation is over
The St. Petersburg forum will be a a good chance for Western investors to see where the Russian economy is going to move in the coming years.
"What we can see now are attempts to kickstart the economy, but I don't think that we should expect any dramatic upswing happening any time soon. This means that foreign investors who are serious about working in Russia should carefully analyze the results of this meeting," Vladimir Osakovsky, chief economist on Russia and CIS at the Bank of America Merrill Lynch.
European and US sanctions imposed on Russia and cheap oil remain a serious problem, the Kremlin's press spokesman Dmitry Peskov said, adding that during the forum Russia would be looking for ways to ramp up mutually-beneficial cooperation with foreign companies.
Sergei Katyrin, president of the Russian Chamber of Commerce and Industry, was optimistic about Russia's economic future.
"Even though the sanctions showed that we are lagging behind in high-tech and some other areas, we have just unveiled the MS-21 new generation passenger jet which will successfully compete in the global market," he said.
Despite the current crisis, foreign investors want to increase their presence in  Russia with about 80 percent of German companies working in Russia all set to expand their business operations.
"I have pragmatic, not political, advice to [potential investors]. The depreciation of the ruble is a good opportunity for them to invest in production facilities in Russia and sell their products abroad, for example in China," Alexander Shokhin, the president of the Russia Union of Industrialists and Entrepreneurs, said.
"Many European companies believe that they will be financially better off by outsourcing to Russia. Production costs are pretty low here and a couple of years from now this the window of opportunity may close down, so now is the right time to move to Russia, despite the embargo," he added.
"This forum is the starting point of our cooperation as its amply proved by Prime Minister Matteo Renzi's decision to come. By his presence here the Italian government is sending a message of support to Italian companies willing to invest in Russia," Italian ambassador Cesare Maria Ragaglini told Gazeta.ru.
Italy is the only European country to have its own pavilion at the forum where over 20 companies will be showcasing their products.
"We see a great deal of interest by foreign investors to work in Russia, so I don't think we have any reason to talk about sanctions," the Russian Direct Investment Fund's head Kirill Dmitriev said.
He added that more than 40 investors from 18 countries were expected to come and that the RDIF planned to announce the construction of a factory in Russia in cooperation with French partners and launch a major medical infrastructural project with Italian businessmen.
The 2016 International Economic Forum will run until June 18.