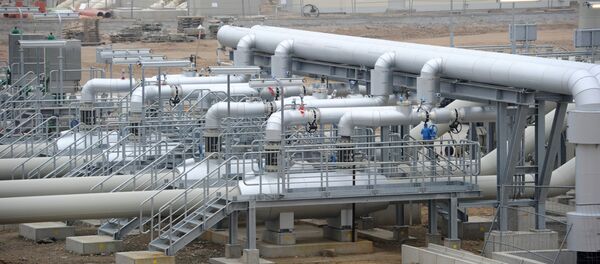 ST. PETERSBURG (Sputnik) — CEO of Germany's Wintershall company Mario Mehren said Friday he expected to obtain the final regulatory approval from Poland necessary to establish a joint venture in the frame of the Nord Stream 2 gas pipeline project in August, and further buy out its share in the venture.
In September, Russian energy giant Gazprom and its partner companies signed a shareholders agreement on the Nord Stream 2 gas pipeline. The prospective shareholders are Gazprom, with 50 percent of shares, Germany's Uniper SE and BASF/Wintershall (10 percent each), Anglo-Dutch Royal Dutch Shell (10 percent), Austria's OMV AG (10 percent) and France's Engie (10 percent). Nord Stream 2 could provide up to 55 billion cubic meters of direct gas supplies from Russian shores through the Baltic Sea, bypassing Baltic states and Poland, to the German coast.

Other shareholders are willing to join the project, so Wintershall expects to obtain an approval from Polish regulatory authorities to become a shareholder and to start working jointly on the project, Mehren told RIA Novosti in an interview on the sidelines of the 2016 St. Petersburg International Economic Forum.
According to Wintershall's CEO, the establishment of the joint venture will take several weeks after obtaining the approval.
Mehren said that due to decreased gas production by European countries the only solution for the region was to increase gas supplies from Russia, or receiving liquefied natural gas, in particular from the United States.
Pipeline gas from Russia will bring greater benefits to European economy and environment than liquefied natural gas, Mehren concluded.
On Thursday, Russian Energy Minister Alexander Novak told Sputnik that prospects of successful implementation of the Nord Stream 2 project were rather high.