Last Tuesday, NATO agreed to deploy "four robust multinational battalions" that will serve in Lithuania, Latvia, Estonia, and Poland on a rotational basis. According to NATO Secretary-General Jens Stoltenberg, these troops are necessary to show that the alliance will "continue to protect and defend all Allies against any threats coming from any direction."

While NATO continues to publicly accuse Russia of aggression, some have expressed concern that the alliance could consider an even larger buildup. But General Petr Pavel, chairman of the NATO Military Committee, has assured reporters that additional troops will not be needed, as Russia does not actually pose a threat.
"Deployment of substantial military force is not being considered," he told reporters on Monday.
"It is not the aim of NATO to create a military barrier against broad-scale Russian aggression, because such aggression is not on the agenda and no intelligence assessment suggests such a thing."

If NATO doesn't believe Russia to be a threat, then why are rotational deployments necessary?
As Jason Ditz points out writing for AntiWar.com, Pavel's comments are starkly at odds with his peers in the alliance.
"That's the exact opposite of what most US commanders have suggested, but Gen. Pavel insisted that the deployments in the Baltics were a 'political' question and not a military one, and that no further escalation should be considered," Ditz writes.
Political pressure may be one explanation, but another could be financial. More troops mean more money, and Stoltenberg has put pressure on member states to put more money into defense.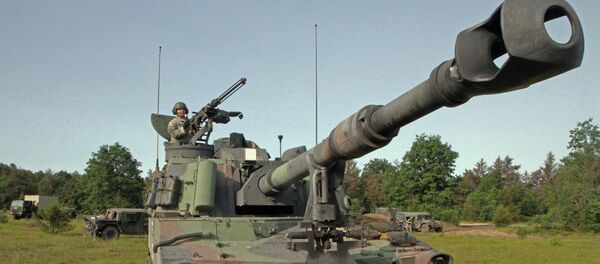 "For the first time in many years, in 2015 we registered a small increase in defense spending amongst European allies and Canada," he told reporters earlier this month.
"And our estimates for 2016 indicate a further increase of 1.5% in real terms this year. This is progress. But I will call on allies to keep up the momentum, and to do more."
The United States currently covers approximately 75% of NATO's budget, up from 50% in 2001.
"Where there seems to be consensus, a fierce debate is actually going on behind closed doors," German magazine Focus Online reported. "According to diplomats, the Americans are having a hard time forcing European countries to strengthen NATO troops in the east."
Citing a Russian boogeyman is a standard legacy tool for many hawks in the West, and no less useful in the present day, especially when profits are involved.