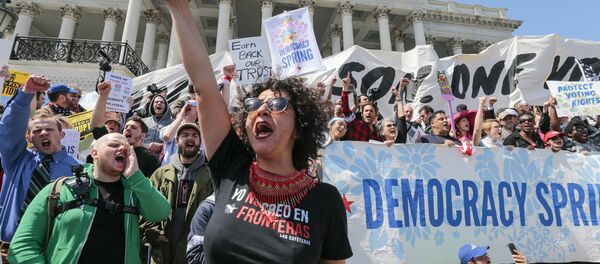 WASHINGTON (Sputnik), Leandra Bernstein — House Democrats began their sit-in protest at about noon on Wednesday morning, demanding a vote on gun control measures to keep firearms out of the hands of suspected terrorists, and improve background checks on individuals purchasing guns.
"The important thing to note is a desire to continue with this kind of protestation once we return, that is what is important," Green said after Democrats officially ended their sit in protest where they demanded a vote on gun safety legislation.
The lawmakers finally vacated the House chamber after noon on Thursday.
At approximately midnight on Thursday morning, Republicans gaveled Congress into session, calling a series of votes that ended around 3 a.m. EST (7:00 a.m. GMT).
Following the votes, the Republicans declared the Congress in recess, ending all official legislative business until the House of Representatives returns on July 5.
"Our protest right now will not fall on their ear because they are not here," Green said of his Republican colleagues. "But when we return, there will be additional business to be conducted, and at that point protestations or polite disruptions will make a difference."
The sit-in protest attracted more than 200 activists who gathered outside the Capitol. House Democrats have discussed plans for town hall meetings in their districts during the ten day recess, as well as other demonstrations for constituents who support gun control measures.