Cameron and Johnson both attended Oxford University, where they were members of the infamous Bullingdon Club — an exclusive band of wealthy students who held grand banquets and vandalized restaurants.
​Prior to Oxford, however, they were schoolfriends and Boris Johnson was very much the senior of the two. Shehab Khan, a political journalist in London told Sputnik:
"If you look back on their history, Boris Johnson had always been the senior to David Cameron throughout the entirety of his life. They went to school together. It was Boris Johnson who was Head Boy and Cameron was his junior."
Both Cameron and Johnson enjoyed the status of being both at Oxford University and members of the Bullingdon Club and seemed destined for high office all along. Cameron rose through the ranks of political research with the Conservative Party before becoming an MP. Johnson followed the course of journalism before becoming MP for Henley.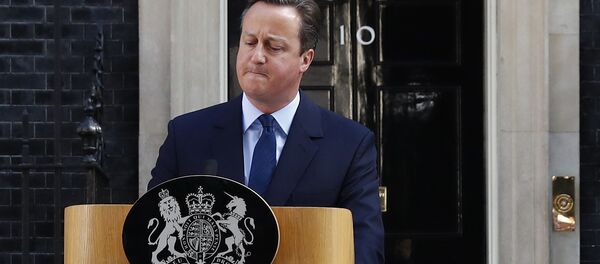 Shehab Khan told Sputink: "Extra-marital affairs and personal issue pegged back Boris' career and led to David Cameron — essentially — leapfrogging him [and becoming leader of the Conservatives]. If you believe what is said within the inner circle, that has angered Boris for a while and he's been after the top job ever since."
'This Was No Referendum'
With Cameron as party leader — destined to fight — and win, albeit in coalition — the 2010 general election, Johnson eyed up the impeding Mayor of London elections. He stood and won, in 2008. From that moment on, Johnson had his own circus and — more importantly power.
​Roll-on 2015 and Johnson announced he would stand as the Conservative parliamentary candidate for the safe seat of Uxbridge and South Ruislip at the general election — putting him back in parliament. Once Cameron announced the date for the In-Out referendum on the UK's membership of the EU and campaign to remain, Johnson announced he would back Brexit.
Shehab Khan told Sputink:
"This [wasn't] just a referendum, this was, in fact a general election. We were choosing between who we wanted to be our prime minister — David Cameron or Boris Johnson. Cameron resigning immediately after the vote tells us that we're going to have someone that's pro-Brexit as prime minister.
"That only leaves us with two potential candidates — Michael Gove and Boris Johnson. Boris' play to come out and go against the tide and what the majority of leading his figures had said seems like it was a play to become prime minister," he said. 
Khan says he believes Gove and Johnson will reach a pact similar to that reached between Tony Blair and Gordon Brown, who agreed one would become leader/prime minister, standing down for the other after a time. So, ironically, Johnson could once again become Head Boy.
"David Cameron has been off-the-record as saying that he thinks Boris has been after his job from the start," Khan told Sputnik.