Turkish President Erdogan's Monday letter to Vladimir Putin containing his sincere condolences to the family of the Su-24 pilot who was shot down by the Turkish F-16 in November 2015 and apology may have a serious impact on the current geopolitical situation in the Middle East and Europe.
But that is not all: on the same very day Ankara and Tel Aviv agreed to mend their relations, ruined six years ago by a maritime clash between Israeli Navy and pro-Palestinian Turkish activists.
"The feuds that Turkey set out to end had become intertwined. Talks with gas-rich Israel gained momentum after Turkey downed the Russian jet and Ankara sought to cut its reliance on Russian fuel. In addition to the economic benefits, the twin-track rapprochement may bolster the Turkish government, which has found itself increasingly sidelined amid attempts to end regional conflicts, especially in Syria where Moscow is now the dominant international player," Onur Ant of Bloomberg suggests.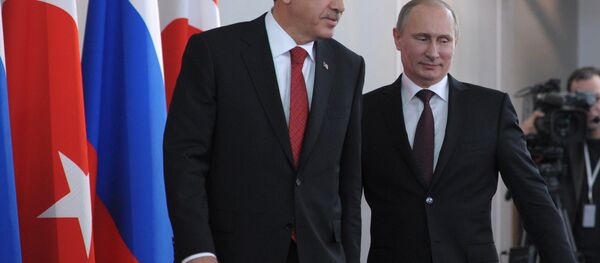 Following the shooting down of the Russian jet bomber, trade between Russia and Turkey that had reached $30 billion a year decreased tremendously, Ant points out. Needless to say, this chill has dealt a heavy blow to Turkey's economy.
Citing Turkish Prime Minister Binali Yildirim, the journalist underscores that after having made a considerable step towards improving its relationship with Moscow, Ankara hopes that Russia and Turkey will resume investments and cooperation in tourism.
What has been the trigger for Erdogan's initiative to ramp up relations with Moscow and Tel Aviv?
Siobhan O'Grady of Foreign Policy magazine noted Monday that not everything is rosy in the EU-Turkish garden: contrary to Ankara's expectations Germany has recognized the Ottoman Empire's genocide against Armenians in 1915.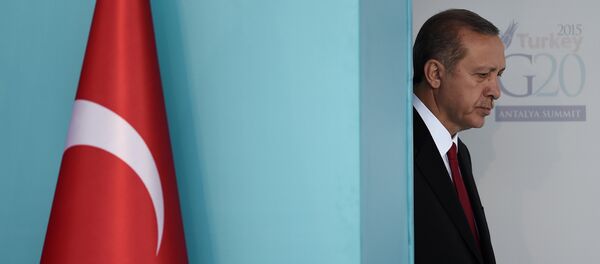 To add insult to injury, "a group of German lawyers and human rights activists announced they had filed a civil suit against Erdogan for allegedly carrying out 'war crimes' against Kurds in Turkey," the journalist reported.
Commenting on Ankara's motivation to mend ties with Moscow and Tel Aviv, O'Grady added that Erdogan's "active steps to improve relations with the Kremlin and Israel come amid growing concern about the Islamic State's threat to Middle Eastern security."
President of the Center for Systems Analysis and Forecasting Rostislav Ishchenko believes that Erdogan's letter to Vladimir Putin has become a reaction to UK Prime Minister David Cameron's political gamble that resulted in the "Brexit" vote.
A looming Brexit has not only prompted Cameron to resign but also upset a balance of power in the European Union.
"Together with Britain, 13 percent of the EU's budget is leaving the bloc," Ishchenko stressed in his op-ed for RIA Novosti, adding that following Britain's withdrawal from the EU, Berlin will be forced to cut back its financial aid to the countries of Eastern and Southern Europe.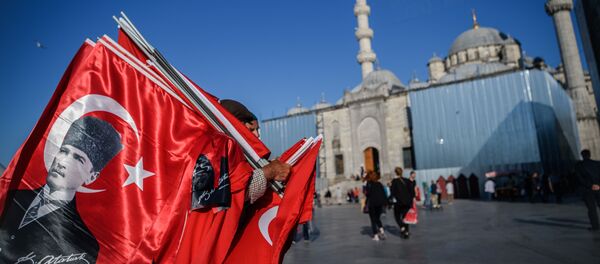 According to Ishchenko, Ankara apparently planned to revive its economy, hit by Russian sanctions, at the expense of the EU and its refugee program.
Now, with the integrity of the European bloc hanging in the balance and the Euroskeptic movement having gained a second wind, the EU is no longer focused on Turkey and its requests for financial assistance.
Ishchenko underscored that in the event of a further Russo-Turkish thaw, Moscow may potentially gain the upper hand in the ongoing Syrian crisis.
Moscow is interested in Ankara changing its stance toward Syrian President Bashar al-Assad and pressuring Turkey-backed opposition groups into joining Assad at the negotiating table.
On the other hand, the resumption of talks on the Turkish Stream project could significantly bolster Russia's positions on the global natural gas market, the expert believes.
Interestingly enough, on Monday Gazprom signaled that it is "open for dialogue" with Ankara on construction of an underwater gas pipeline as part of the Turkish Stream project.
"We have always been open for dialogue on Turkish Stream, and we remain open now," Gazprom's spokesperson Kupriyanov said in an official statement.