On Monday, German television channel ARD reported that in addition to the president, charges have been leveled against several other politicians, including former Prime Minister Ahmet Davutoglu and Interior Minister Efka Ala. The 200 page document accuses officials for alleged crimes committed in Kurdish regions of Turkey, including the city of Cizre, Sirnak Province.
The charges include the death of 178 people, most of them civilians, who were burned alive while hiding in basements from Turkish artillery, tanks and other heavy military equipment. The case was sent to the General Prosecutor's Office in Karlsruhe, southwestern Germany on Monday, lawyers Britta Eder and Petra Dervishaj told reporters.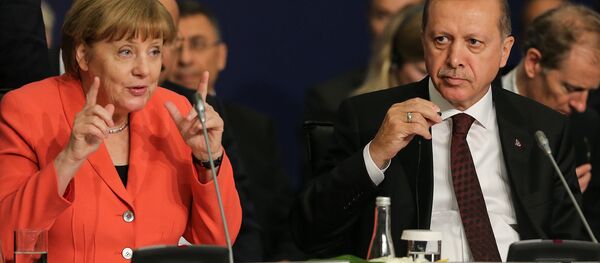 German officials supporting the case include Bundestag MPs from The Left Party, academics from Germany and other European countries, and human rights groups.
ARD explained that it was unknown whether prosecutors will agree to conduct a formal investigation. German politicians and human rights activists had previously accused the Turkish president of war crimes in 2011; at that time the case was closed without further investigation by German prosecutors, who cited then-Prime Minister Erdogan's political immunity.
In 2015, the resumption of an armed conflict in southern Turkey between Turkish security forces and the Kurdistan Workers' Party has resulted in the deaths of over 480 soldiers and police officers, and thousands of Kurdish militants, according to Ankara. However, according to Turkey's pro-Kurdish People's Democratic Party, the Turkish government's so-called 'anti-terrorist operation' has also resulted in the deaths of hundreds of civilians.
Asked to comment on the legal initiative, Left Party MP Ulla Jelpke told Sputnik that it was an attempt to bring attention to an issue which is being downplayed in German society.
"We do not understand why the federal government is silent on these crimes. We believe that the mass killings of civilians committed in Turkey are war crimes, crimes against humanity. Therefore, Erdogan and his accomplices to these crimes must be brought to justice," Jelpke said.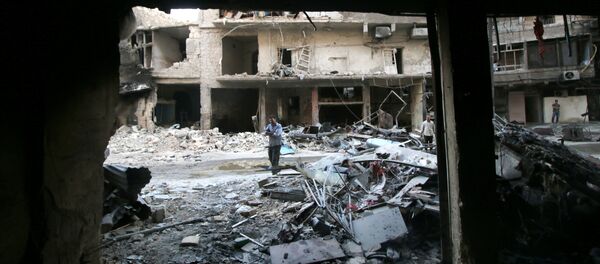 Furthermore, the lawmaker added, "given the close relations at the government level between Germany and Turkey – whether in the economic sphere, or the resolution of the migration crisis, it's not possible to remain silent on this issue."
Jelpke said that she expects the General Prosecutor's office to at least initiate a criminal investigation, "all the more so because there is sufficient material evidence confirming these crimes, including witnesses, videos, numerous evidence."
At the same time, she added that she has "no illusions" about the case, "to the effect that Erdogan might be arrested during his next visit [to Germany]. After all, a case had already been filed in 2011 on the basis of international criminal law, but the prosecutor's office rejected the claim on the grounds of full immunity for the accused."
However, the lawmaker pointed out that "unlike 2011, the current case also applies to former Prime Minister Ahmet Davutoglu and other members of his cabinet, who no longer enjoy immunity. Furthermore, we have filed a lawsuit against Turkish military personnel."

As an unfortunate byproduct of her involvement in the initiative, Jelpke said that she had become an object of hatred among the Turkish immigrant community living in Germany. "On the other hand, I have received support from other people who experienced terrible iniquities in the past."
The lawmaker emphasized that she was well-versed in issues pertaining to Turkey and the Middle East. "For over 25 years, I have regularly visited Turkey, Syria and Iraq. In the early 1990s, I witnessed the mass murder of Kurds in Turkey. These events in 1993 did not result in prosecutions either."
Rights organizations, Jelpke recalled, have repeatedly pointed out that when it comes to human rights violations, Turkish secret services are almost never subject to prosecution inside Turkey itself. "Even if such attempts are made, it invariably turns out in the course of the investigation that documents disappear, not enough evidence is found, [etc.] with charges subsequently dropped." 
"Therefore, we cannot rely on these crimes against humanity will be investigated in Turkey. In fact, President Erdogan is attempting to legitimize them, speaking [recently] about another initiative under the anti-terrorism legislation. Erdogan introduced a bill to the country's parliament providing immunity for anti-terrorism officials, including police…In other words, they cannot be held criminally responsible for their actions in the fight against the terrorists, even while they consider the country's entire Kurdish population terrorists," the lawmaker concluded.