MOSCOW (Sputnik) — On Thursday, Russian President Vladimir Putin signed a decree lifting restrictions on travel by Russians to Turkey, specifically a ban on charter flights to the country and a recommendation for Russian travel agencies to stop selling tour packages to Turkey. However, the ban on a number of Turkish exports remains in place.
"This process of resuming trade and economic cooperation and resolving a number of associated political issues, including visas and so on, will be divided into stages. Let's not rush things, we are prepared to hold all these discussions with our Turkish colleagues…[But Russia] will not change its economy to suit the needs of any country, including a major trade partner such as Turkey," Medvedev said during the Vesti v Subbotu television program.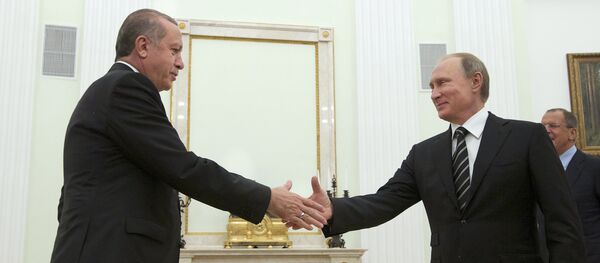 He added that Turkey took up 5 percent of Russia's foreign trade before relations deteriorated in the wake of the
Russian Su-24 jet downing
by the Turkish Air Force over Syria in November 2015.
"This is, in fact, a large figure. Still, this happened and it was, frankly speaking, not our fault. So some economic niches have been filled by other countries," the prime minister said, stressing that Russia will not remove new players from the market in favor of Turkish exports.
The same goes for the European Union, which has also seen declining trade with Russia due to deteriorated relations amid the crisis in Ukraine.