On Friday, Kirstein had suggested on Twitter that "symmetrically [to the memorial] to the Red Army, a monument should be erected to the German forces who freed Riga from the Bolshevik hordes in July 1941."
Ushakov responded on Facebook: "On Friday morning, I ready MP Alexander Kirstein's proposal to put a monument to the Nazi soldier 'liberators' near the monument to the Soviet soldier liberators. Sasha! Do not drink in the mornings. And if you do, be sure to disable your Twitter account!"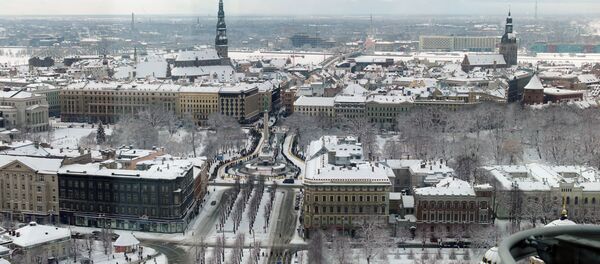 Kirstein, an MP from the right-wing National Alliance, the fourth-largest party in the country's parliament, had proposed erecting a monument to Nazi soldiers in Riga's Pardaugava district.
Last month, a Latvian parliamentary commission rejected an initiative to demolish Riga's Memorial to Soviet Liberators. The Latvian Foreign Ministry has also indicated that Russia and Latvia have reached an agreement on the preservation of Soviet-era monuments.
Latvia proclaimed its independence from the Russian Empire in 1918, before being forcibly incorporated into the Soviet Union in 1940 in the early stages of World War Two. Between 1941 and 1944, the country was occupied by the Nazis. Within seven months of the German invasion, the Nazis and local collaborators had killed most of the country's Jewish population; a concentration camp was established in the Riga suburb of Salaspils which was handed the grim task of exterminating Jews who were sent there from other countries. After the collapse of the USSR, Latvian nationalists began actively commemorating Nazi collaborators, including the Latvian Legion, a volunteer formation of the Waffen-SS accused of war crimes and participation in the Holocaust.
Last month, a study by the Defense Academy of Latvia's Center for Security and Strategic Research revealed a dangerous trend — that nearly one third of Latvians believe that the country is seeing a revival of Nazism.