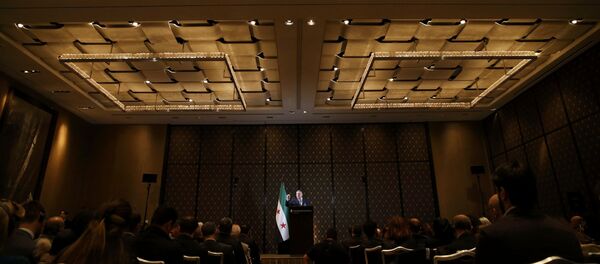 MOSCOW (Sputnik) — Makhous noted that during the meeting of the coalition such issues as delivery of humanitarian aid and ceasefire in Syria would be addressed.
"The next meeting of the the Syrian National Coalition is due to be held on July 11-12, this will be a regular meeting that the coalition holds every month to assess the political situation. The meeting will be held in Istanbul," he said.
"The meeting of the HNC is scheduled for July 15 to discuss the latest political developments, especially, with regard to the negotiation process, that was suspended in Geneva for more than a month," he said.
Moreover, a new round of talks on Syria could be held before the end of July.
''Until now, [UN Special Envoy for Syria Staffan] de Mistura has not indicated a certain way to continue negotiations, however, there is a tendency to enter into a new round of talks until the end of the month," he said.
Geneva talks on Syrian reconciliation were put "on pause" in early June due to the beginning of the holy month of Ramadan.
Syria has been mired in civil war since 2011, with government forces loyal to President Bashar Assad fighting a number of opposition factions and extremists. A Russia-US-brokered ceasefire came into effect in Syria in February. Extremist groups operating in the country are not part of the ceasefire.