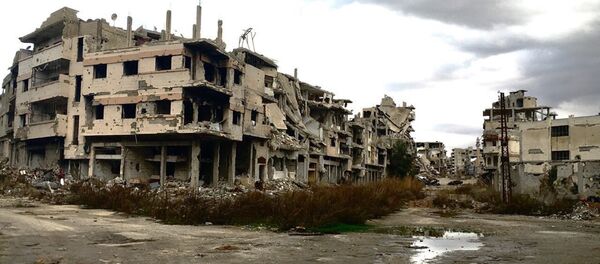 The civilians believe that the Syrians Army will soon destroy all of the Daesh militants. An RT correspondent visited these villages and met with some of the civilians.
Syrian government troops backed by the Russian Aerospace Forces (VKS) managed to remove the militants from many areas east of the city of Homs, but the terrorists are trying to win back some territory on the contact line with the Syrian army.
Despite the fact that the Syrian Army was able to drive Daesh from the eastern suburbs of Homs and Palmyra to al-Qaryatayn, the terrorists are still trying to keep up the offensive, firing at peaceful settlements.
"Recently we were shelled by the militants of Daesh. The missiles hit the house. Look, here we had 12 sheep. All of the animals were killed," local resident Rihab Al-Khudri, told RT.
"Our suffering continues for five years now. We are constantly being shelled. The terrorists are just a kilometer away. But we are holding up," continues the other resident.
Talking about living conditions in these villages, civilians said that some of the houses are empty and those who did not want to leave can barely make ends meet. The farmers cannot cultivate their land, as the land is constantly shelled by the militants.
"Here nearby is my land. It used to feed me. But for five years now, I do not know what is happening there. I used to have almond and olive trees growing there. Now these territories are all in the hands of the militants and I cannot go there because terrorists kill and kidnap people who try to get to their lands," a Syrian man spoke in an interview.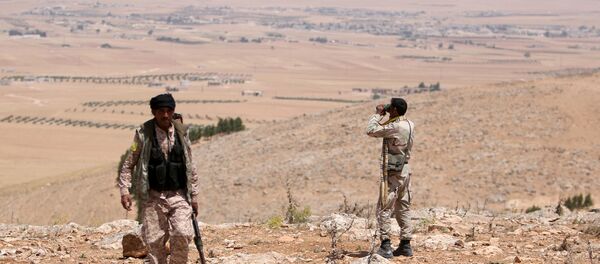 According to Farouk al-Jahan a representative of the militia forces, "We have created militias and help the army regularly. We will fight for our lands. We will defend it. Our children and wives live here. There are fierce battles raging right now and our village was badly damaged. Hopefully, the government will help us."
Volunteers have stood up to defend the nearby villages. Despite the constant shelling and food shortages, the locals refuse to leave. They believe that soon the militants will be destroyed.
Over 150 Syrian towns have been liberated from Daesh terrorists due to Russian air support, the Russian Defense Minister said Friday.
"This allowed 264,000 refugees to return to their places of permanent residence," Sergei Shoigu said.
The minister further mentioned the return of three oil fields and the liberation of the key cities of Palmyra and Quaryatayn over the course of the Russian operation.
But most importantly, the expansion of terrorist group's activity into surrounding areas has been stopped. Recently, major numbers of terrorists were defeated in Syria's Hama, Homs, as well as in Latakia and near Damascus.