PARIS (Sputnik) – French police confirmed the death of a second Russian citizen in a terrorist attack on the Promenade des Anglaise in the French resort city of Nice, Russian Consul General in Marseille Sergey Molchanov said Tuesday.
"Unfortunately there are sad news. Alina Bogdanova has also died, the French side has confirmed this," Molchanov told RIA Novosti.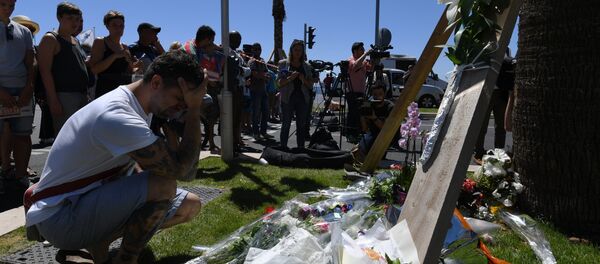 According to Molchanov, the French police also confirmed death of another woman, which is supposed to be the wife of a Russian national, who is currently in a French hospital, though her Russian citizenship has not been confirmed yet.
"The French side confirmed the woman's death, though we have not received yet the confirmation, whether she had the Russian citizenship. Her grandchildren have Russian and Estonian passports, her husband has a Russian passport, she precisely has an Estonian. Her son has not confirmed that she has a Russian one," Molchanov said.
On Monday, Molchanov said that three more Russian nationals had been hospitalized in France — a man with a Russian citizenship and his two grandchildren with dual Russian-Estonian citizenship.
On July 14, a truck rammed into a large crowd celebrating Bastille Day in Nice, killing at least 84 people, including children, and injuring hundreds. The French police confirmed that Russian citizen Victoria Savchenko was among the casualties. The fate of Bogdanova was unknown at the time.