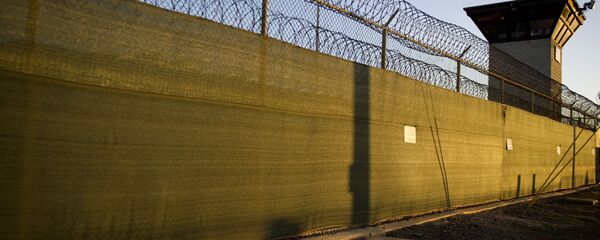 Dominique Jamet said that Debout la France had been campaigning for a Gitmo-style prion to be built on a French island since the November 13, 2015 terrorists attacks in Paris.
"This is a result of the growing number of terrorist attacks we have here, because we are in a state of war, even though it's a different kind of war. Hence all these calls for a clampdown on those who this way or another are waging this war against us."
Dominique Jamet said that what was being proposed was a "Guantanamo with all legal provisions and guarantees you can find in regular prisons."
She also said that inmates will not be locked up for good and without appeal, and they will also be provided with legal defense.
"We can't resign ourselves to the presence of people who have pledged allegiance to a foreign country waging war on us. We see this as a possible and maybe inevitable solution. Right now many MPs, Republicans and right-wingers support it," she told Sputnik.
Melodie Aulibet, a defense attorney, told Sputnik that she was opposed to the idea of having a Gitmo-style prison opened in France.
"From the point of view of human rights, this whole idea is absolutely shocking. As a defense lawyer I can't agree to having  a prison here where people are held without a trial and without the right to legal defense," she said.
"Besides, I think that if these people ever return to France, we need to have social re-adaptation centers with psychiatrists and psychoanalysts working with them to make them forget the [murderous] ideas once put into their heads."
Georges Fenech, chairman of the French parliamentary commission tasked with investigating last year's terrorist attacks on Paris, called for the construction in France of a prison that could be the equivalent of the infamous US detention facility in Guantanamo Bay, Cuba, le Figaro reported.
Fenech warned that France may soon face a large influx of those returning from the wars in Iraq and Syria because Daesh terrorists are losing ground and their collapse is just a matter of time.
The French parliamentary commission on terrorism was formed to assess the nation's failure to prevent a series of terror attacks in Paris which left a total of 147 people dead in November, 2015.
The prison at Guantanamo Bay in Cuba is designed for the detention of persons suspected or accused of terrorism after the 9/11 attacks, which claimed the lives of almost 3,000 people.
American and international rights activists had repeatedly criticized the Bush administration for serious violations of human rights in relation to Guantanamo detainees, including torture and holding people who haven't been charged with committing a crime.