The deadly Munich shooting claimed the lives of 10 people while 27 were injured. Although it was initially believed that the attack had been carried out by three culprits, it has turned out that the shooter, an 18-year-old German of Iranian descent, acted alone.
"Police say a suspect committed suicide, and that they now believe he had acted alone. There was "no indication" of other shooters, after probing two false leads, Munich's police chief said," Deutsche Welle reported Saturday.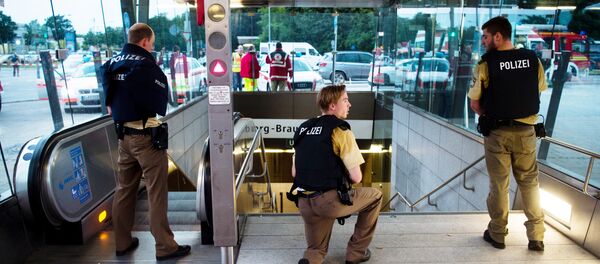 While the question on everyone's lips was whether the culprit had links to the Daesh (ISIS/ISIL) terrorist organization, Munich police chief Hubertus Andrae told a press conference Saturday that evidence has not been found so far to confirm this version.
"The shooter was 18 years old, he was born and grew up in Munich. He was a school student, a search has been conducted in his apartment, in the room where he lived. The search exposed no links to Daesh," Andrae emphasized during the press conference organized by the N-24 broadcaster.
At the same time, speculations have emerged that the attacker could have been inspired by far-right extremist Anders Breivik, who carried out a terrorist attack in Oslo and the island of Utoya exactly five years ago, on July 22, 2011, killing 77 people.
Whatever motives were behind the deadly attack, the problem is that "fear has arrived in Germany, in its cities," Christoph Strack of Deutsche Welle notes.
"Terror is fear. And fear has arrived in Germany, in its cities. The fear that struck Norway five years ago today, when Anders Behring Breivik launched a massacre in Oslo and on the island of Utoya. And the fear that just a week ago hit the streets of Nice, when the lives of 84 people were cruelly cut short as they celebrated France's national holiday, Bastille Day," Strack writes in his article.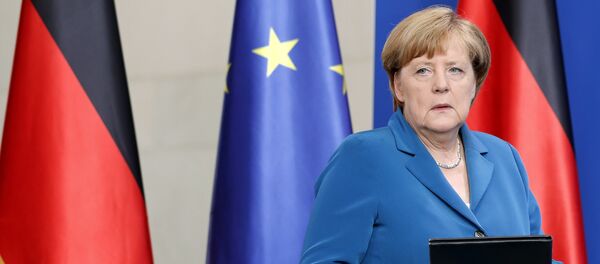 The journalist called attention to the fact that a few days before the Munich attack a young Afghan refugee attacked tourists with an ax and a knife on a train near Würzburg, also in Bavaria.
The Munich tragedy has become the third deadly assault carried out against civilians in Western Europe in eight days.
"After Friday's attack in Munich, however, one thing is certain: The reason and background for this tragic event remain unclear. Hasty accusations should be avoided," he warned.
However, the attack has sparked a wave of discontent with some Germans blaming the tragedy on Chancellor Angela Merkel and her open door policy on migrants.
"There is no detailed information about the incident so far. However, the police have already claimed that it was a terrorist attack. At the same time it has become clear that what is going on in Germany is the result of Angela Merkel's open door policy on migrants," Markus Frohnmaier, German politician and a member of the Alternative for Germany (AfD) party told Izvestia.ru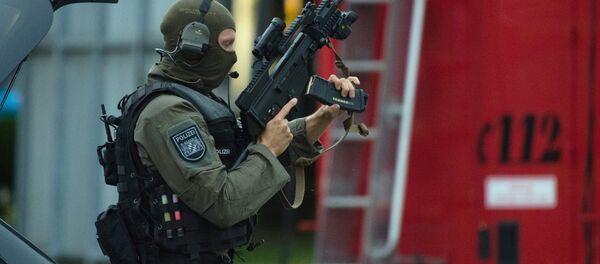 In his
interview
with Rossiyskaya Gazeta German expert Alexander Rahr, Research Director of the German-Russian Forum, underscored that the incident could neither be regarded as a radical Islamist action nor as an assault by
a German "Anders Breivik"
or the Norwegian neofascist follower.
"The culprit who shot people in a shopping mall in Munich on Friday was 18 years old. He was a descendant of an Iranian family and was raised in Germany being a representative of second-generation immigrants from that Middle Eastern country. According to the video, made at the scene, the shooting was the young man's act of revenge for not being able to integrate into the German society. It should be admitted that there is problem with foreigners' socialization in Germany," Rahr told Rossiyskaya Gazeta.
The expert suggested that it was the individual's psychiatric deviations that lay at the root of the assault, not political reasons.
However, Rahr envisions that the debate about the failure of multiculturalism policy in Germany will catch a second wind. Furthermore, the expert predicted that the country's right-wing parties will jump at the Munich tragedy's bandwagon to target Merkel's migration policy. It might become a serious challenge for centrist parties.
"What will follow the deadly Munich shooting? I expect a resumption of demonstrations against Chancellor Angela Merkel's migration policy. It is completely obvious, that German right-wing populist parties will gain momentum. It might become a serious challenge for centrist politicians, such as Merkel. They will have to provide an adequate response to right-wing parties' [emergence]," Rahr stressed.
And it seems that Rahr's forecast is coming true.
​Siobhan McFadyen of The Daily Express reported that Merkel has faced a "furious backlash" following the Munich tragedy.
#MunichAttack Anyone heard of Angela Merkel? Seems she has disappeared! She is unfit to govern and should step down!

— Walter M C Walgraeve (@w_walgraeve) July 23, 2016
​"As the horrifying scenes from Germany's third largest city sparked outrage across the world many in German pinned the blame directly on the country's leading politician and her open door policy on migrants," McFadyen writes.
The relatives of the raped and killed should thank Angela Merkel for the destruction of Germany.

— K G Hohenstauffen (@KGHohenstauffen) July 22, 2016
​The journalist draws attention to the fact that Merkel's ruling party suffered serious losses to the right-wing AfD in this year's local election, adding that polls are suggesting that Merkel stands a chance of losing in the national federal election next year.