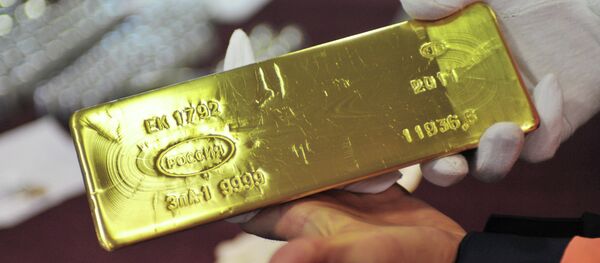 China's consumption of gold is set to reach 1200 tons annually by 2020, according to estimates from the Ministry of Industry and Information Technology (MIIT), cited by Shanghai Securities News in a report on Wednesday.
Zhou Changyi, head of MIIT's department for industrial raw materials, told the news agency that China, though it is the world's top gold producer, will be unable to meet the forecast rise in demand.
The second annual China Gold Congress & Expo is currently underway at the Beijing International Convention Center, and exporters are keen to clinch deals to supply the Chinese market.
Sergey Kashuba, president of the Russian Gold Producers, told Sputnik that Russia is ideally positioned to provide Chinese consumers with more gold, since the two countries have established trade links and Chinese investors have invested in four Russian gold mining start-ups.
He said that last year one company, Zijin Gold, invested around $100 million in the construction of a gold production plant in Tuva, southern Siberia.
Konstantin Bunin, general director of the gold mining company Karat, told Sputnik that his firm is hopeful of securing partnership with Chinese investors at Beijing's Gold Congress.
"This direction holds a lot of promise, because we have a lot of fields located within the Arctic Circle where the extraction is laborious and requires preliminary prospecting which costs a lot," Bunin said.
"At the moment there are few companies on the Russian market which can afford to do it, so partnership with Chinese investors is a real possibility."
"Furthermore, President Vladimir Putin recently signed a decree on the import and export of precious stones and metals. It expands and simplifies the conditions for the export of rough diamonds and precious metals. I think the conditions for collaboration with Chinese partners are developing well," Bunin said.
Song Xin, President of the China Gold Association, told the China Gold Congress on Tuesday that China's Silk Road initiative could also promote global integration of the gold production industry, and increase China's appetite for gold.
Transactions for most of the Silk Road infrastructure projects will be conducted in China's renminbi, which is increasingly used for global trade. In December 2015 it was included in the IMF's Special Drawing Right basket of currencies, expanding that number of basket currencies to five.
In July 2014 Song Xin, who is also General Manager of the China National Gold Group Corporation, wrote that China should aim to accumulate 8,500 tonnes in official gold reserves, more than the US, in order to support its bid to make the renminbi a global currency.
According to a report by Koos Jansen in BullionStar,com, Song wrote that gold will help support the renminbi to become an international currency as "gold forms the very material basis for modern fiat currencies."
Jenson reported Song's argument that in the short term the Chinese will not back the renminbi with gold (establish a fixed renminbi price for gold), but support it with gold so it has sufficient credibility for the world to accept it as a trade and reserve currency.

China is the world's biggest consumer of gold, and in the first six months of 2016 it consumed a total of 528.52 metric tons of the precious metal, 7.68 percent less than the same period last year.
Chinese investors in gold may have been deterred recently by this year's steep rise in the price of gold; according to data from Marketwatch on Wednesday it was trading at $1,335.70 per troy ounce, an increase of 25 percent since January 4. 
China produced 229.102 tons of gold during the first six months of this year, an increase in production of 0.16 percent compared to 2015.
According to the China Gold Association, in 2015 Chinese gold purchases climbed 3.7 percent to 985.9 tons, as jewelry buying increased and investors sought safe assets.
Financial analyst Dmitry Tratas told Sputnik that China's increasing demand for gold will also make the Shanghai Gold Exchange a serious rival to exchanges in London and elsewhere.
"By virtue of the volume of trading, of course the Shanghai Exchange can take first place, (particularly) given that the People's Bank of China stores a lot of its reserves in gold, and that India is not far away, where there is traditionally high demand for gold. So, sooner or later, Shanghai will at least be on a par with London," Tratas said.