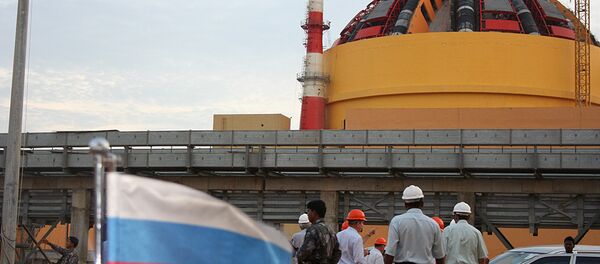 10 August 2016, 10:43 GMT
NEW DELHI (Sputnik) — Russian President Vladimir Putin and Indian Prime Minister Narendra Modi dedicated the reactor of the Kudankulam Nuclear Power Plant via a video linkup. The ceremony was attended by chief executive of ASE, a Russian engineering firm and the project's general contractor.
"India's first nuclear reactor that was jointly built with and designed by Russia complies with all current safety rules and demonstrates operation stability. The factual feedback on its exploitation has gone beyond the project's expectations," ASE CEO Valery Limarenko said at the conference.
The first 1,000-megawatt nuclear reactor in the southern Indian state of Tamil Nadu was connected to India's national power grid in 2013. The second reactor was launched last month and is soon expected to go online.