MOSCOW (Sputnik) — On Tuesday, Russian President Vladimir Putin met with Erdogan in St. Petersburg for the first talks to reset bilateral relations after the November 2015 downing of a Russian aircraft by Turkey.
"I think the Kurdish issue was addressed at the meeting because one of Putin's conditions was that Turkey should change its policy toward the Kurds," Ikbal Duerre, a Kurdish political scientists and Middle East expert, told Sputnik.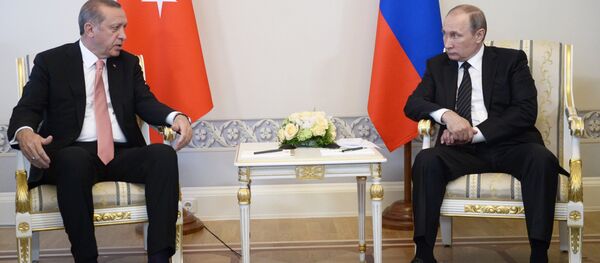 The situation with the Kurds is one of the main points of contention between Russia and Turkey. While Russia supports the rights of the ethnic minority, the Turkish government is against it gaining autonomy.
"I think that Erdogan will change his attitude toward the Kurds in the near future… Turkey should change its position, especially given the recent coup attempt. Turkey cannot live with the burden of this problem anymore," Duerre said.
At the same time, representative of Kurdistan National Congress UK Akif Rizgar Wan is skeptical about the possibility of Erdogan having a "change of heart."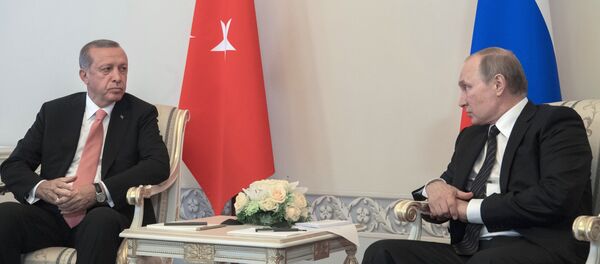 10 August 2016, 08:32 GMT
"It is not going to change because of that meeting, it will change for the better for the Kurdish people because of our fighting… Erdogan has killed Kurdish people, even this week, that is why I would not expect in the near future any meeting's outcome for the benefit of the Kurdish people. He is there [in Russia] for his own safety, not for even the Turkish people's benefit," Rizgar Wan said.
His words were echoed by honorary president of the pro-Kurdish People's Democratic Party (HDP) Ertugrul Kurkcu, who reminded that Ankara is against Kurdish self-governance.
"I am not sure that Turkey will be able to change its mind-set in its approach to the Kurdish problem in Syria and in Turkey… For the Turkish establishment self-governance is the worst idea. This contradictions is still in place regardless of the meeting with Mr. Putin," Ertugrul Kurkcu underlined.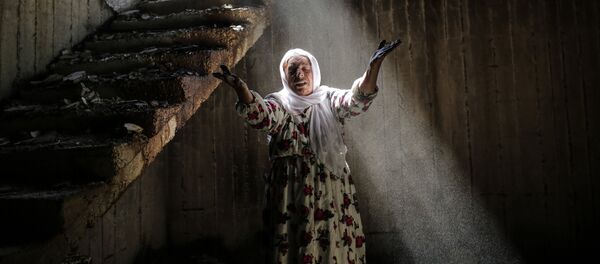 Tensions between Ankara and the Kurds escalated in July 2015 when a ceasefire between Turkey and the Kurdistan Workers' Party (PKK) collapsed due to a series of terror attacks allegedly committed by PKK members. The Turkish authorities have imposed several round-the-clock curfews in Kurdish-populated towns in the country's southeast, preventing civilians from fleeing regions where the military operations are being carried out.
Members of the Kurdish ethnic minority currently inhabit parts of Turkey, Iran, Iraq and Syria. The Kurds represent the largest ethnic minority in Turkey and are striving to create their own independent state.
Relations between Moscow and Ankara hit rock bottom last November after a Turkish jet shot down a Russian plane on the Syrian border. Bilateral ties started improve again after the Turkish president offered his condolences to the family of the slain Russian pilot in June.