Currently it's illegal to try US citizens by military commisions, which would require an act of Congress to change, but Trump dismissed such concerns saying "that'll be fine."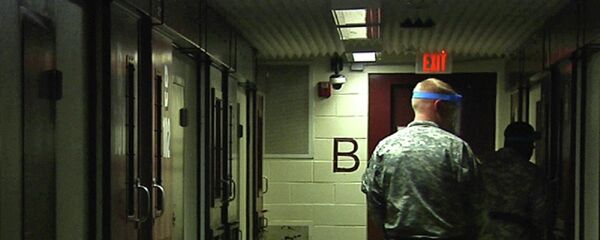 Current US President Barack Obama has notoriously failed to close the US jail, despite campaigning on a promise to do so.
On the contrary, Mr Trump says he intends for the prison complex to stay open, because the US needs a "very safe place" to keep terrorists. He strongly criticized Obama's continuing attempts to shut the Cuban detention facility, long plagued with accusations of inhumane treatment of prisoners.
"He's allowing people to get out that are terrible people. He's allowing a lot of people out of Guantanamo that should not be released," Mr Trump said.
"'I will tell you that as far as Guantanamo is concerned I want to make sure, 100 percent sure, that if we're going to release people, number one they're going to be people that can be released and it's going to be safe to release them and there are plenty of bad ones out there and I'd use it for that."
Some "egalatarian" just said Trump sending US citizens to Guantanamo is equal to "divorced dads trying to get custody."
What is this even?

— Beth Elderkin (@BethElderkin) August 12, 2016
​There are currently 76 detainees still held at the military prison, of which 34 are to be transferred to other countries.
If Mr Trump were to win the US election come November, he says that Americans can expect for that number to rise,promising to "load it up with bad dudes."
© AP Photo / ANDRES LEIGHTON
A detainee is escorted to interrogation by U.S. military guards at Camp X-Ray at Guantanamo Bay.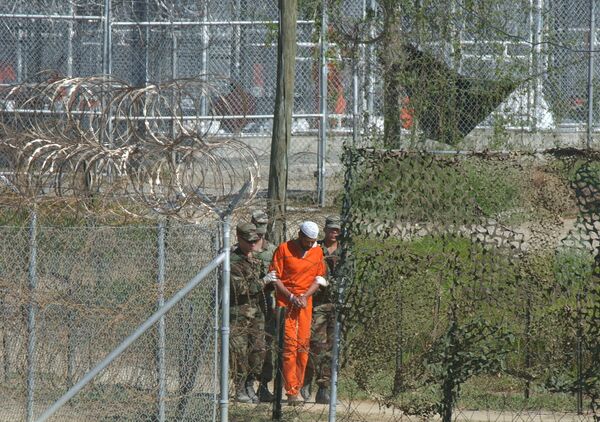 A detainee is escorted to interrogation by U.S. military guards at Camp X-Ray at Guantanamo Bay.
© AP Photo / ANDRES LEIGHTON
There have been calls in the past for terrorists to be tried in military courts, such as Dzhokhar Tsarnaev, one of the Boston Marathon bombers and a naturalized US citizen. However, most constitutional experts and several senior Republican leaders strongly opposed the proposals, fearing a dangerous precedent being set.
In the same interview, Mr Trump's confidence extended to the mosquito-borne Zika Virus crisis, which has spread to Miami.
"They're spraying all over the place. I see it. And I think it'll be fine."
​It's unclear whether such self-assurance is genuine or merely bluster in an attempt to make up for the relentless damning headlines that have dominated Trump's presidential campaign. It's been an especially turbulent couple of weeks for the Republican party nominee.
He has been roundly criticized for a series of controversial statements, even by high-ranking members of his own party.
His latest gaffes include belittling the mother of an American war hero and implying that gun rights activists could consider assassinating democratic candidate Hillary Clinton.
​The media and political establishment backlash at Trump's increasingly incendiary comments has corresponded with reports of his supporters lashing out at journalists.
Some Trump backers fear, like their candidate, that the US political system is rigged against them.
Videos are being circulated on social media, which show journalists being hissed and booed at, and facing angry chants of "Lock them up!" while reporting at Trump rallies.
​Some leading Republicans are now so fearful that Mr Trump is alienating floating voters, more than 70 have signed an open letter calling on Republican National Convention Chairman Reince Priebus to cut offical ties and funding to their party's nominee:
"We believe that Donald Trump's divisiveness, recklessness, incompetence, and record-breaking unpopularity risk turning this election into a Democratic landslide, and only the immediate shift of all available RNC resources to vulnerable Senate and House races will prevent the GOP from drowning with a Trump-emblazoned anchor around its neck."
​"This should not be a difficult decision, as Donald Trump's chances of being elected president are evaporating by the day."