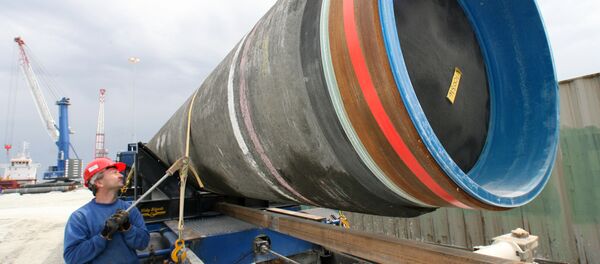 YEKATERINBURG (Sputnik)
–
The Nord Stream 2 project will help diversify gas supplies and contribute to the implementation of the Paris climate agreements, Russian Foreign Minister Sergei Lavrov said Monday.
"We are convinced, just like our European partners who are developing this project together with us, that it will help diversity gas routes to the European continent and that it overall matches the development program for European gas infrastructure that exists within the EU, complying with EU's main goal of creating an energy union," Lavrov said, speaking at the Ural Federal University in Russia's Yekaterinburg together with his German counterpart Frank-Walter Steinmeier.
"The implementation of [Nord Stream 2] will certainly be another contribution to the implementation of the agreements reached at the Paris climate conference," he added, underlining that the project should not be politicized.
Steinmeier noted that "politics should not get involved" and Gazprom and European companies must "solve issues regarding approvals of the Nord Stream 2 themselves."