"First, UOKiK acted as an anti-monopoly agency. Secondly, it explained its decision by local energy companies arguing that the implementation of the Nord Stream 2 project would undermine competition in the energy market," Rafał Zasuń said.
Russia's Gazprom and its partners from Germany, France, Switzerland and the Netherlands have already withdrawn their applications for merger approval. When asked if this means that they are not going to finance the construction of the Nord Stream 2 pipeline, Rafał Zasuń said that he didn't think so.
"Of course, not. I don't think they have given up on this. They will probably be looking for legal loopholes to circumvent the Polish regulator's ban, which I don't think is final. To have a better picture of the situation we need to take a better look at EU and Polish legislation," Rafał noted.
If the European Union endorses the Nord Stream 2 project, Poland could end up the loser, therefore this is yet another test of European solidarity.
"The EU as a whole will certainly not give its backing because it is simply not authorized to do so. It's up to the European Commission. However, for the project to be approved, it needs to fall in line with provisions of the Third Energy Package [which is intended to break monopolistic energy supply chains in Europe,] Rafał said.
"If it does, then the whole project will be a money-losing one and whether its participants are able to force the European Commission to ease its demands to make the project more profitable, is hard to guess," he continued.
The impression is that by acting on the pretext of securing fair competition, Poland is using its anti-monopoly agency to further its own economic interests.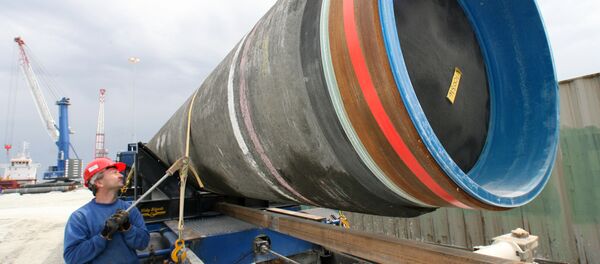 Warsaw plans to build a new terminal for liquefied gas it is going to receive from offshore fields in Norway and the Nord Stream 2 pipeline would compete with the already existing LNG terminal at Świnoujście and the planned supplies from Norway. Moreover, Poland views both these terminals as elements of a major gas re-export hub – something that will hardly sit well with EU founding members, above all Germany.
Adding to this Poland's open rejection of the EU's migrant policy, it may not be long before Warsaw feels the pinch of "European solidarity" against an EU member which has become a major irritant to many members of the European community.
The Nord Stream 2 project presumes building two pipeline strings, with a total capacity of 55 billion cubic meters of gas a year, from Russia to Germany under the Baltic Sea.
An agreement on Nord Stream 2, involving the expansion of the Nord Stream gas pipeline, was signed in early-September 2014, during the Eastern Economic Forum in Russia's Vladivostok. The new consortium was established by Gazprom, E.ON, Shell, BASF/Wintershall, OMV and Engie. Gazprom holds 50 percent of shares while the others own 10 percent each.
In December 2015, Gazprom said Nord Stream 2 was expected to launch in the fourth quarter of 2019.