Russia's Ministry of Defense confirmed Tuesday that it had deployed Tu-22M3 bombers and Su-34 strike fighters in Iran and these have already carried out airstrikes against terrorists in Syria.
​"On August 16, 2016, Tu-23M3 long-range bombers and Su-34 bombers, having taken off from their base in Hamadan [Islamic Republic of Iran], carried out group airstrikes against targets belonging to Daesh and Jabhat al-Nusra terrorist groups in the provinces of Aleppo, Deir ez-Zor and Idlib," the ministry said in a statement.
Russian bombers also destroyed three militant command points and training camps in Syria's Serakab, Al-Bab, Aleppo and Deir Ez-Zor, killing "a significant number" of terrorists, according to the ministry.
"Weapons and ammunition depots, training camps and command points destroyed through airstrikes were used to supply militants active in the Aleppo region," the ministry said in a statement.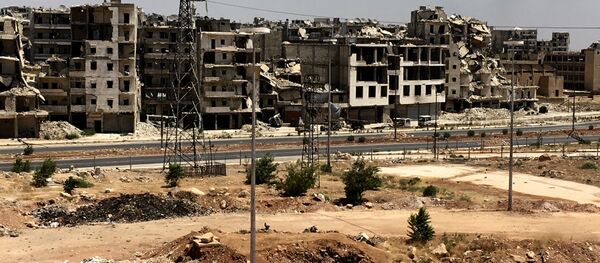 15 August 2016, 13:10 GMT
The Tu-22M3 is a long-range strategic bomber capable of carrying nuclear weapons. The bombers previously carried out precision airstrikes against Daesh targets in Syria from Russian airspace.
The Su-34 fighter-bomber has been tested in the war against Islamist radicals in Syria where the aircraft arrived among the first Russian forces in 2015.
Daesh has been outlawed in Russia and numerous other countries around the world.