According to global intelligence company Strategic Forecasting Inc. (Stratfor), Turkey could very likely make concessions to Iran and Russia on Syria, even if it does not abandon its support of the Syrian rebels.
"Given the international and domestic forces working against the Turkish government right now, it makes sense for Turkey to set aside its differences with Russia and Iran over some aspects of the Syrian conflict so as to collaborate where they have shared interests," Stratfor's report reads.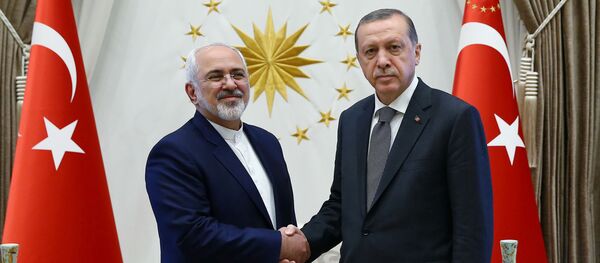 14 August 2016, 14:29 GMT
Although Moscow and Ankara have differences of opinions on the Syrian crisis and Bashar al-Assad's future, it would not prevent them from teaming up against Daesh (ISIS/ISIL).
Furthermore, even though Ankara is unlikely to give up its Sunni allies among the rebels, it may "change its strategy in the country to appease Iran and Russia," the report suggests, citing Turkish Foreign Minister Mevlut Cavusoglu's remark that no Syrian solution is possible without Russian support.
Stratfor also calls attention to the fact that "Turkey's recent closure of the Bab al-Hawa border crossing, even if temporary, could be a Turkish concession already made to Russia."
On the other hand, there are rumors that Ankara and Damascus have scheduled a bilateral meeting, facilitated by Iran, the report adds.
"Though Turkey is highly unlikely to ever support Syrian President Bashar al-Assad, it could decide to talk directly with al-Assad or support a transition government that includes him. For Iran, supporting al-Assad has been a critical part of its regional strategy, and it is in Iran's interests to maintain that relationship," Stratfor points out, stressing that both Ankara and Damascus are opposing the emergence of YPG-run independent Kurdish entity in northern Syria.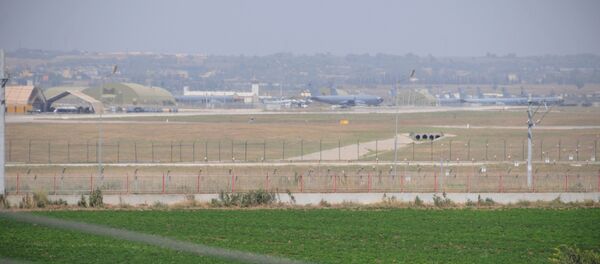 16 August 2016, 15:42 GMT
The intelligence firm, dubbed a "shadow CIA", warns that Syrian rebels may turn its back on Turkey if it becomes too friendly with Moscow or the Syrian government.
"In fact, some rebel groups have already distanced themselves from Ankara," it highlights.
For its part Moscow, as well as Tehran, is interested in maintaining closer ties with Turkey, thereby making it appear "as though the United States is the lone irrational outlier in Syria," the report adds.
Indeed, signs continue to emerge that Russia, Iran and Turkey are very serious about establishing an alliance in Syria. It was reported Iran's Foreign Minister Mohammad Javad Zarif proposed to hold a trilateral meeting with Turkey and Russia to discuss the settlement of the Syrian crisis.
Meanwhile, the Russo-Iranian military cooperation has strengthened with Tehran signaling its readiness to share its facilities and capacities with Moscow to fight Daesh.
Interestingly enough, Turkish journalist Murat Yetkin of Hurriyet Daily News also believes that "circumstances are forcing Ankara to find a new policy in Syria."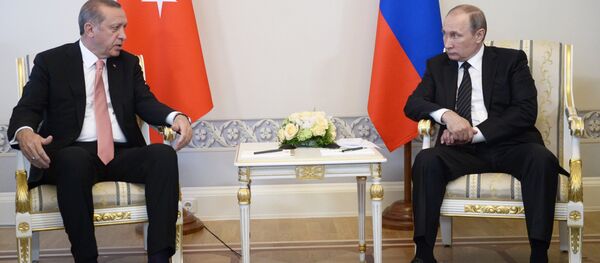 13 August 2016, 15:25 GMT
He emphasizes that Turkey has faced a serious dilemma: while it needs to stop the emergence of a new Kurdish entity in northern Syria which borders with the Kurdish-populated regions of Turkey and Iraq, Washington is seemingly not intended to restrain its Kurdish allies.
To add insult to injury, the US also refuses to extradite Turkish cleric Fethullah Gulen, an alleged mastermind behind the failed coup in Turkey.
On the other hand, Ankara has also failed to get rid of the Baathist government led by Syrian President Bashar al-Assad.
In this context, Ankara is likely to adopt a new foreign policy course toward Damascus.
"Prime Minister Binali Yildirim's statements to daily Karar on Aug. 15 suggest that Ankara is in the process of adopting a new, three-point Syria policy. This new policy will prioritize the maintenance of Syria's territorial integrity, (meaning no separate Kurdish entity), the avoidance of ethnic or sectarian domination, (meaning an end to al-Assad's Alawite-based government), and the return of Syrians to their country once a solution in Syria is reached," Yetkin stresses.
But that does not mean that Ankara will push ahead with its "Assad must go" concept.
"Ankara seems to be ready to accept a reconstruction of the Syria government, a coalition perhaps led by the Baath party," he underscores, adding that it remains an "open question" whether Ankara will agree to accept Bashar al-Assad as a key player in the new government.