Russia stands a good chance of resolving the Syrian crisis by teaming up with Turkey in the region.
According to Salman Rafi Sheikh, a political analyst and expert on international affairs, the war in Syria has already reached a level where it is no longer a typical 'civil war', given the large number of geopolitical players involved in it.
"Notwithstanding that it is still a riddle that continues to defy an agreeable solution, some recent developments, especially Turkey's internal situation and the way it has affected its erstwhile 'good relations' with the West, have opened a window of opportunity for Moscow to harness it to its advantage and drive the West away from following two contradictory policies: dialogue and tacit support of some 'moderate' groups-a policy that, in turn, is based upon dominating the Middle East as well as encirclement of Russia by engaging NATO in the region," Sheikh writes in his opinion piece for New Eastern Outlook.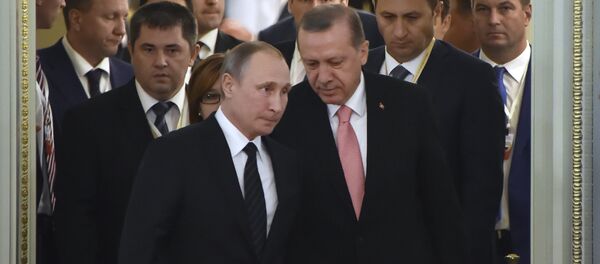 13 August 2016, 07:49 GMT
Turkey and the West have seen a steady deterioration in relations following Ankara's decision to mend ties with Moscow in late June.
The failed coup attempt in Turkey has exacerbated the tensions because of "lack of support and empathy" toward Ankara on the part of the West, Sinan Ulgen of the Istanbul-based Centre for Economics and Foreign Policy Studies (EDAM) noted in his article for Anadolu Agency, a state-run Turkish press agency.
"Since the coup attempt, President Recep Tayyip Erdogan has met with only two of his counterparts, the presidents of Kazakhstan and Russia. No high-level Western leader has decided to travel to Turkey to demonstrate solidarity with the Turkish body politic," Ulgen stressed.
To add fuel to the fire, American and EU leaders have expressed growing concerns with the purge in the country that followed the attempted coup, and thrown Turkey's EU aspirations and NATO membership into question.
Amid simmering tensions with the West, Ankara has made a series of steps toward Moscow that resulted in a bilateral summit between Russian President Putin and his Turkish counterpart Erdogan in St. Petersburg on August 9.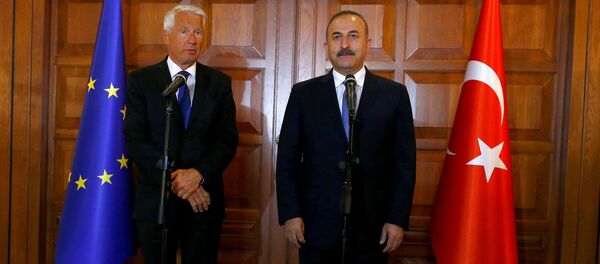 12 August 2016, 11:07 GMT
The leaders discussed the establishment of a "new mechanism" of cooperation in Syria which will comprise the countries' intelligence services, foreign ministries and militaries.
"The first concrete step [between Turkey and Russia]: Previously, there were different mechanisms between us on Syria, between militaries, foreign ministries and intelligence services. Now, we [will] establish a threefold mechanism," Foreign Minister Mevlut Cavusoglu told Anadolu Agency Wednesday, as cited by Hurriyet Daily News. 
Furthermore, on August 11, Cavusoglu signaled that "Turkey may seek other options outside NATO for defense industry cooperation although its first option is always cooperation with its NATO allies," Reuters reported Thursday. 
Cavusoglu's remark sounds especially interesting in the light of his announcement Thursday that Turkey will resume its air campaign against Daesh (ISIS/ISIL) while at the same time planning to team up with Russia in the region.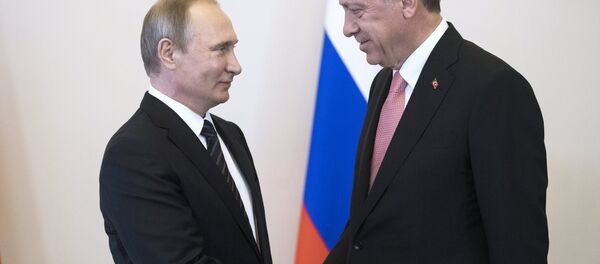 11 August 2016, 16:05 GMT
"We will once again actively join the operations against Daesh with our planes," Cavusoglu told Turkish broadcaster NTV, as quoted by Hurriyet Daily News.
The foreign minister stressed that Ankara has called upon Russia to carry out a joint aerial campaign against the terrorist organization.
"Let us come together to concentrate our efforts on Daesh," he underscored.
A day later, Mevlut Cavusoglu and his Iranian counterpart, Mohammad Javad Zarif, told a press conference that Turkey and Iran have decided to "keep closer contact" on the matter of the "territorial integrity of Syria," Al Jazeera reported Saturday.
Moscow and Tehran have been supporting Syria's legitimate government in Damascus since the beginning of the war.
However, despite Turkey repeatedly advocating Syrian President Bashar al-Assad's departure, Ankara and Tehran have agreed to "strengthen cooperation for a lasting peace" in the country.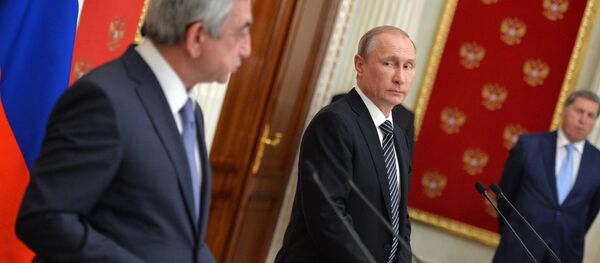 13 August 2016, 13:55 GMT
According to media reports, Zarif has called upon Ankara and Moscow to organize a trilateral meeting to
discuss the settlement of the Syrian crisis
.
Do the recent developments mean the creation of a new coalition in Syria?
In any event, the Russo-Turkish and Turkish-Iranian rapprochements spell trouble for the broader US geopolitical game in the region, according to Sheikh.
The researcher calls attention to the fact that Washington has also regarded Turkey as a bulwark against Russia in the Black Sea.
"Were Turkey to step away from the US agenda of encircling Russia in the Black Sea and threaten Crimea and were Turkey to start a rollback, directly intervening in Syria…, it will sound a death knell not only for the 'regime change' agenda in a country pursued by the US and regional allies but also for larger strategic objectives that the US-led block is pursuing," the researcher underscores.
"The coup-attempt is a grim reminder of the bad policies Turkey has been following for past two-three years and that have now come to haunt his own country… The protagonists may have specific interests in Syria, but the bottom line is that Turkey is under enormous pressure to abandon the disruptive role it has played so far by supplying and equipping Syrian opposition groups," Sheikh concludes.