Commenting on the US Vice President's visit to Kosovo in an interview with Sputnik, Zoran Stankovic, editor-in-chief of Radio Gracanica, said that the local Serbs don't believe that Biden really means what he says.
"The Kosovo Albanians have just as much faith in [Biden] as the local Serbs do, especially in view of the US endorsement of the region's unilateral declaration of independence in 2008," he said.
Mentioning Kosovo President Hashim Thaci's promise to restart dialogue with Belgrade after the initial round of talks fell through, Stankovic said:
"People here believe that Albanian politics can change any moment. The thing is that the transcript of Biden's interview has never been published in full and what is going to happen next is anyone's guess. In any case, America is the country that is calling all the shots in Pristina."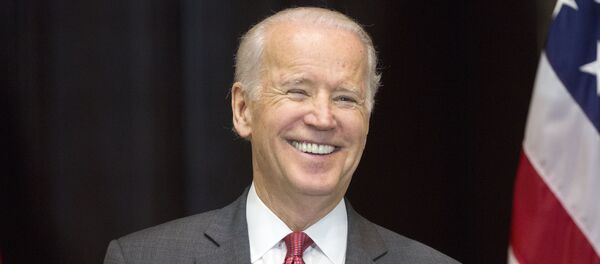 18 August 2016, 09:01 GMT
In an interview with Sputnik the head of the Kosovo affairs desk in the Serbian government, Marko Djuric, underscored the importance of international support for the idea of an association of Serbian communities in Kosovo, especially if this support came from countries that hold sway over the Kosovo leaders even though Pristina, unlike Belgrade, has failed to meet many of its commitments to normalize bilateral relations.
Sanda Raskovic Ivic, the president of the Democratic Party of Serbia, said that Joe Biden could have asked the Kosovo leaders to set up such an association, but added that it would still exist as part of the so-called "independent Republic of Kosovo.
"It makes no sense talking about any concessions here now that you have part of your territory taken away from you," she added.
Sanda Raskovic Ivic did not rule out that the Kosovo authorities could eventually agree to a certain compromise because "Kosovo's capital is not Pristina; it is the US military base Camp Bondsteel."
Before leaving Kosovo Joe Biden attended a ceremony to unveil a statue and road that honored his late son Beau who once volunteered as a legal adviser in Kosovo helping train prosecutors and judges for the Organization for Security and Cooperation in Europe (OSCE).