19 August 2016, 09:50 GMT
Some of Albania's leaders are reportedly alarmed over Albanian Prime Minister Edi Rama's decision to speak on behalf of Kosovo. Meanwhile, some Kosovo Albanians and
Kosovo
Serbs have reacted angrily to Rama's intention to attend the forthcoming Belgrade summit on the economy and security, scheduled for October.
The Albanian delegation of industrialists headed by Rama is due to take part in the summit, which is slated to be held in Belgrade between October 12 and October 14.
High on the agenda will be bolstering economic cooperation between Tirana and Belgrade as well as discussing Albanian-Serbian relations in the region. The gathering is expected to be attended by a delegation from Kosovo, due to be headed by the Deputy Minister of the Local Self-Government of Kosovo, Bajram Gecaj.
© AP Photo / Darko Vojinovic
Serbian Progressive Party supporters hold Serbian flag during a pre-election rally in Belgrade, Serbia, Thursday, April 21, 2016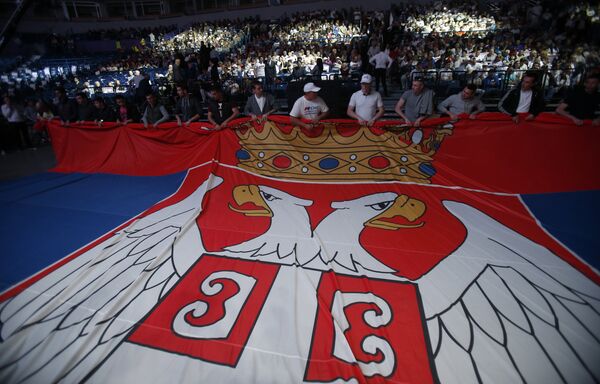 Serbian Progressive Party supporters hold Serbian flag during a pre-election rally in Belgrade, Serbia, Thursday, April 21, 2016
© AP Photo / Darko Vojinovic
In an interview with Sputnik, Pristina-based political analyst Berat Buzhala said that it is unclear how "the people of Kosovo will react to such a move by Edi Rama," and that he is very much concerned about the fact that Edi Rama moves to speak in Belgrade on behalf of Kosovo."
He added that he wants the Kosovo authorities to continue negotiations with Belgrade, and that the venue of the talks should not be moved to Tirana.
"I think that Tirana must not represent Kosovo anywhere in the world. Issues under discussion are not the problems of relations between Albania and Serbia. These are the problem of Kosovo and Serbia. And I would very much like their early resolution, but without Edi Rama," Buzhala said.
He described Kosovo as a full-fledged state, saying that only Kosovo's own leaders are authorized to negotiate with Belgrade and resolve internal problems.
In the meantime, Kosovar Serbs see Rama's participation in the upcoming economic summit in Belgrade as a sign that Serbia is signaling its readiness to recognize Kosovoa as an independent state.
Momcilo Trajkovic, chairman of the Serbian Resistance Movement from Kosovo and Metohija, told Sputnik that he is not surprised about the latest events on the matter.
"The Kosovo authorities are gradually begin to open checkpoints in Central Serbia, and they are looking for a way to justify it. All this may slowly but surely lead to the recognition of Kosovo's independence by Belgrade," he said.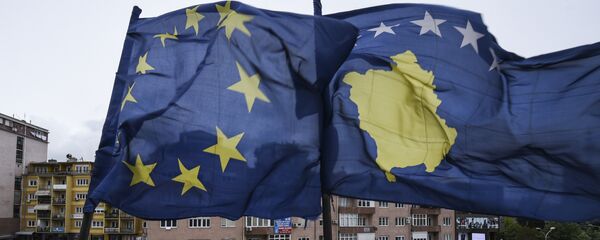 Prime Minister of Serbia and Albania Aleksandar Vucic and his Albanian counterpart agreed during last month's Conference of the Western Balkans with EU countries leaders to hold the congress, which will be attended by Serbian and Kosovar politicians and businessmen.
According to them, the gathering should see the sides clinching a deal strengthening bilateral cooperation and improving relations between Serbia and Albania.
During the visit of the Albanian Prime Minister to Serbia, the sides are also expected to negotiate direct flights of the air carrier Air Serbia in the direction of Belgrade-Pristina. Rama, for his part, recently touted the Serbian-Albanian ties as "good", but added that the main problem between Belgrade and Tirana is related to their divisions on Kosovo's status.