Ahead of the second Conference of State Parties to the treaty in Geneva, Oxfam has received a legal opinion that UK arms transfers to Saudi Arabia constitute a clear violation of its national, regional and international arms transfer obligations under the Consolidated EU and National Arms Export Licensing Criteria, the EU Common Position on Arms Exports, and the Arms Trade Treaty.
​Ed Cairns, Senior Policy Adviser (Research), Humanitarian Policy and Campaign Team at Oxfam GB told Sputnik:
"It seems to me that the UK Government is in denial at the impact of the Saudi-led airstrikes in Yemen. Bearing in mind that every side in the conflict is harming civilians and violating the laws of war — it's not just the Saudi coalition."
Oxfam said that there are more people in need of humanitarian assistance in Yemen — 21.2 million people — than any other country in the world. Over 6,000 people have been killed in the war according to the UN. More than 3 million people have been uprooted from their homes and over 14 million people, half the population, are suffering from hunger and malnutrition.
'Incomprehensible'
While all sides are responsible for serious breaches of international law, the UN reports that the Saudi-led coalition is responsible for twice as many civilian casualties as all other forces put together.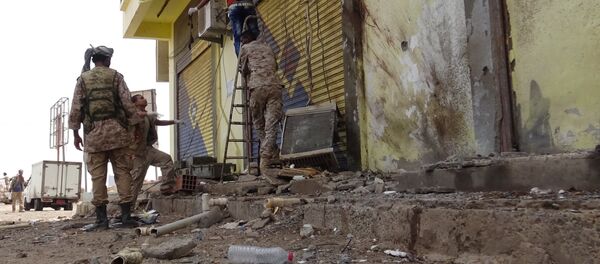 19 August 2016, 19:18 GMT
"Under UK law and the International Arms Trade treaty, which the UK is a signatory, it is wrong to supply arms where there is a 'risk' of them being used to violate international humanitarian law. So, even if there isn't absolutely solid proof of anybody targeting [civilians] — and that's not the accusation we are making — clearly every reasonable person knows there is a clear risk of arms being sent to the Yemen conflict being used to harm civilians.
"It seems incomprehensible that the UK Government hasn't come to that conclusion," Cairns told Sputnik.
In February, this year the Government told Parliament that it had assessed that there had not been any breach of international humanitarian law by the Saudi-led coalition only to correct its statement in July stating that there had been no such assessment.
​Under the terms of the Arms Trade Treaty, which is incorporated into UK law, the Government must suspend and revoke existing arms export licenses to Saudi Arabia until it can be certain there is no risk that any arms will be used by the Saudi military to commit breaches of international humanitarian and human rights law in Yemen.