It is only 72 days until the next US President is elected and it already seems as though the fate of US-Russia relations will be irrevocably marred by a theory hatched by Hillary Clinton's campaign that marks President Vladimir Putin as the "godfather" of what was once known as the "vast right-wing conspiracy."
It began in the lead up to the Democratic National Convention when faced with damning evidence in the WikiLeaks file dump, campaign manager Robby Mook reached into his bag of tricks and pulled out the Russia card blaming the country's intelligence services for the document leak exposing the complicated scheme between the Hillary camp, the DNC and the corporate media to create false narratives about Bernie Sanders in order to propel Clinton to the nomination.
That once defense damage control shield has since been converted into a sword, despite a lack of evidence linking Russia to the WikiLeaks file dump – there is evidence that Russia, as well as several other countries have hacked the DNC in 2016 and in previous cycles but that is separate and apart from being the source of leaked documents. The tactic is now being employed to slander the reputations of a decorated US three-star general and to defame opposition media outlets into oblivion.
Once again, Robby Mook took to the television circuit last Sunday to say that even with the ouster of Paul Manafort who faces investigation for failing to adequately report his financial ties to the Yanukovych regime (as is Hillary's chief strategist John Podesta), "all of the Russians are not yet out of the campaign."
Mook went on to say that three-star US General Michael Flynn, the man who accurately predicted the rise of Daesh (or ISIS), was a security risk and should not be allowed to attend classified intelligence briefings with Donald Trump because he is "on the payroll of the Russia Times, a Kremlin propaganda outfit." There is, of course, no such thing as the Russia Times (presumably he meant RT which stands for Russia Today), Michael Flynn is not on the payroll of RT, and neither RT nor Sputnik are government controlled.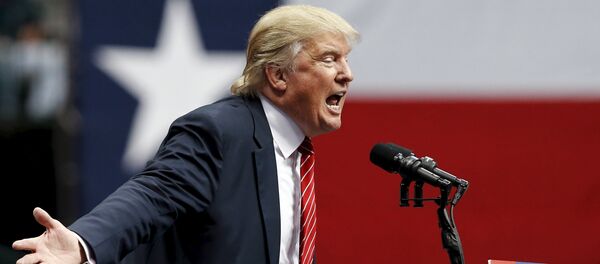 27 August 2016, 18:44 GMT
Facts be damned, Robby Mook argued that "the hand of the Kremlin is in the election," a sentiment that was developed further in a fashion that has earned Clinton the nickname "tinfoil Hillary" in the past day.
Speaking in Reno, Nevada, Hillary Clinton called Russia and President Vladimir Putin the "grand godfather of this global brand of extreme nationalism" that includes Donald Trump, Nigel Farage and outlets like Breitbart that have been labeled with a poorly defined term "alt-Right."
​"Farage has appeared regularly on Russian propaganda programs," said Hillary again presumably referring to RT which is not government controlled and has received yet another nomination for an Emmy for their reporting. "Now he's standing on the same stage as the Republican nominee."
By labelling Putin, RT and Sputnik as not only "Russian propaganda outlets" but as the "grand godfather" of the "alt-Right" movement Secretary Clinton looks to label media outlets as not only treasonous but also racist. Alt-Right, a term that simply means news read by non-establishment conservatives, has become laced in recent days with the insinuation of bigotry and racism – positions no doubt held by a small percentage of that particular cohort.
The idea that either Sputnik or RT cater to, never mind aiding the "grand godfather" of, alt-Right audiences is laughable by anybody who has read coverage of the Green Party's Jill Stein, Bernie Sanders, or the UK Labour Party's Jeremy Corbyn on either Sputnik or RT or the plethora of articles and pieces that point unfavorably to Trump's support from various White Supremacist groups.
In the words of Vice reporter Michael Tracey following the attacks lobbed by Clinton's campaign manager on ABC News, "It's difficult to convey the extremism and derangement of these comments today from Hillary Clinton's campaign manager Robby Mook."