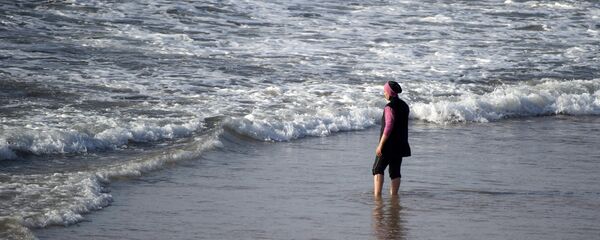 1 September 2016, 19:59 GMT
"The burkini ban is a silly way to deal with a serious problem […] because it is likely to fuel anti-European, anti-Western feelings because, in a way, Europe and the West seem to be a place for illiberal legal provisions. It is not so, but this is the impression we are giving people living in other parts of the world," Silvio Ferrari said.
The issue has recently sparked heated debate in France as dozens of seaside towns banned wearing burkinis on public beaches.
When asked about what this ban could eventually lead to, Ferrari said that, fortunately, the controversial ban was suspended by a Nice court on Thursday, which said that burkinis posed no risk to hygiene, decency or safety when swimming.
"However, this ban is a symptom of [European inability] to deal the issue of religious and cultural diversity. It becomes more and more difficult to maintain  a rational approach to the issues of religious diversity as we are moving more and more towards emotional responses," he added.
Ferrari said, however, that he was not surprised to hear about 57 percent of adult Britons supporting a law that bans people from wearing burqas in the UK.
"Well, the burqa is a different thing in a sense that it is a kind of an obstacle to communication. It covers the face, I can't see the face of the person I'm speaking to and this impoverishes my relations with that person. But the burkini is completely different. The face is visible and communication is not hampered."
When asked if he would stop burqas from being part of the school uniform in Europe, Ferrari said that in the courtroom or in the classroom a student or teacher wearing a burqa that completely covers the face could be banned because it has a negative impact on relations between teacher and student.
Discussions on banning certain Islamic clothes have recently become a matter of contentious debate in many European countries.
In summer, burkinis were banned from municipal beaches in about 30 French towns, including Nice, which saw a terrorist attack in July that killed 84 people. Some politicians in the country called to introduce a nationwide ban on burkinis.