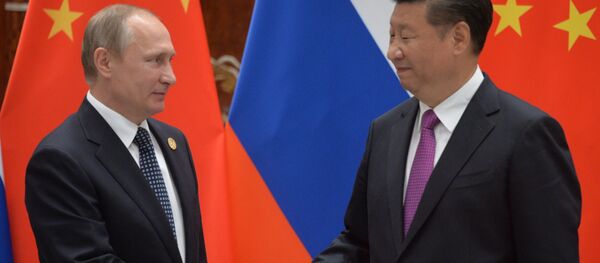 4 September 2016, 05:12 GMT
HANGZHOU (China), (Sputnik) — Russia and China should reinforce comprehensive cooperation and mutual political support, Chinese President
Xi Jinping
said on Sunday.
"We hope that our sides will enhance contacts in order to implement our agreements. Our countries should strengthen comprehensive cooperation, strengthen mutual political support, support of the other country on protection of sovereignty," Xi said at a meeting with Russian President Vladimir Putin.
He added that China supported Russia's will to develop in line with its own specifics.
"We consider Russia's prosperity and development, as our own chance to develop," Xi said.
The Chinese leader added that it was necessary to promote integration of the strategies of Eurasian Economic Union (EEU) and the Silk Road Economic Belt, as well as Russia's and China's own strategies.