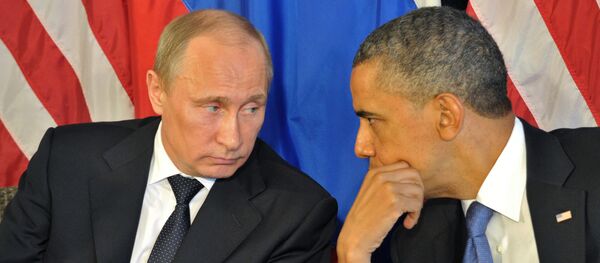 3 September 2016, 11:16 GMT
In an interview with the Russian news website
Life.ru
, Sergey Sudakov, an expert on US-Russia relations, suggested that by meeting Russian President Vladimir Putin in China, his US counterpart Barack Obama sought to effectively draw a line under his presidency.
The interview came as Putin and Obama met for bilateral talks on the sidelines of the Group of Twenty (G20) summit in the Chinese city of Hangzhou on Monday.
Earlier, Obama said that the United States and Russia continued to support different sides in war-torn Syria and had differences over the peace process in the country.
© Sputnik / Alexei Druzhinin
 / Go to the mediabank
Russian President Vladimir Putin, left, and US President Barack Obama during a meeting in Hangzhou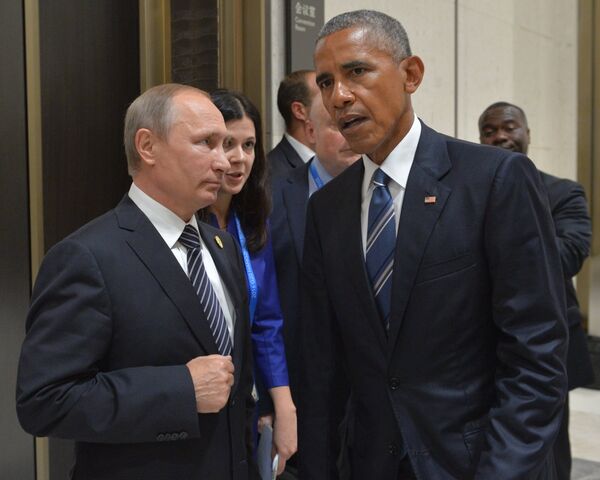 Russian President Vladimir Putin, left, and US President Barack Obama during a meeting in Hangzhou
© Sputnik / Alexei Druzhinin
/
Kremlin spokesman Dmitry Peskov told reporters that the talks lasted "longer than planned", with Syria and Ukraine being discussed first and foremost.
Sudakov, for his part, recalled that Obama is already being called a lame duck in the United States and that right now, he has "a very simple task" to deal with.
"Democrats believe that Hillary Clinton has already won a 100-percent election victory, which is why Obama needs to put an exclamation mark at the end of his presidential term. He will try to resolve the issues that are yet to be solved, and to score the gains for Clinton," Sudakov said.
In Syria, Obama wants Russia to withdraw, he said, adding that the US President is doing his best to weaken the Russian alliance formed in the Middle East.
"His task is to show that America is able to resolve conflicts with someone else's hands, which is why he offers a new military coordination stage on Syria, a proposal that was earlier put on the table by Russia," Sudakov said.
He also lashed out at Washington's repeated calls for Syrian President Bashar Assad's resignation, which he said is out of line with Moscow's position on the matter.
"We call for fighting global evil, instead of focusing on the resolution of opportunistic political tasks and the scoring of points for the outgoing [US] President," he said referring to Russia's efforts to combat Daesh and Jabhat Fateh Al-Sham (formerly al-Nusra), two of Syria's most notorious terrorist groups.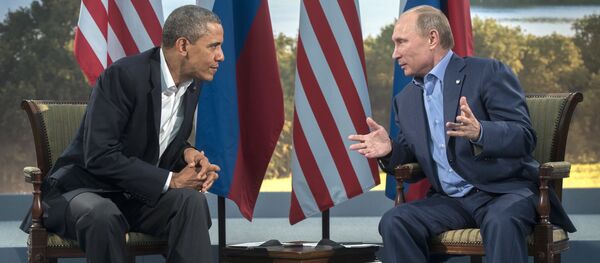 4 September 2016, 12:39 GMT
Meanwhile, a recent poll by Franklin and Marshall College revealed that Democratic presidential nominee Hillary Clinton's lead over her Republican rival
Donald Trump
in the key battleground state of Pennsylvania has been trimmed by more than one third in the past month. The survey showed that Clinton has 47 percent voter support compared with 40 percent for her Republican counterpart Trump.
Since the convention, the Clinton campaign has been hurt by allegations of impropriety and links between the Clinton Foundation and the US Department of State during the four-year period when Clinton led the department from 2009 to 2013.
Pennsylvania is one of several swing states, meaning that it carries above-average weight in determining the outcome of US presidential elections.