LUGANSK (Sputnik) – The representative office the Lugansk People's Republic (LPR) is expected to open in Austria, LPR lawmaker Nikolai Zaporozhtsev said on Thursday.
"We are opening a representative office in Austria and authorizing [Austrian activist] Alfred Almeder to head it," Zaporozhtsev said.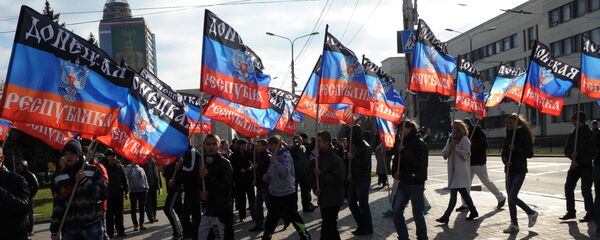 8 September 2016, 14:18 GMT
He said that the office would help to organize supplies of humanitarian aid for LPR citizens taken in in Austria. The office is also going to report about the developments in the republic.
Last week the Donetsk People's Republic (DPR) opened its representative office on Ostrava, Czech Republic.
The eastern Ukrainian region of Donbass does not acknowledge the legitimacy of a February 2014 coup in Ukraine. The new Kiev regime launched a military operation against eastern Ukraine in April 2014 but failed to regain control over the breakaway territories.