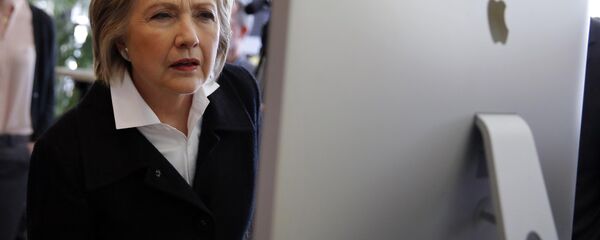 8 September 2016, 14:43 GMT
US Democratic presidential hopeful Hillary Clinton said that there is a threat of Russian meddling in the election,
Bloomberg
reported. According to her, the threat must be addressed "quickly and firmly."
"We have to be doubly on guard to protect our electoral system at all levels and we have to make it clear that we're not going to let anyone interfere with the decisions of the American people," she told journalists during a trip on her campaign.
However, Clinton did not provide any details and evidence to her allegations. She claimed that Russian President Vladimir Putin and his aides could "get some benefit" from meddling in the US election, according to Bloomberg.
"They are accusing Russia of everything, including the most absurd and exotic things. I think that Clinton's words are too emotional and politically irresponsible. She tried to weaken Russia but actually only made it stronger, metaphorically speaking. Even the USSR could not meddle in the US presidential election," Grigory Trofimchuk, senior analyst at the Workshop of Eurasian Ideas think-tank, told Radio Sputnik.
According to the expert, the statement will soon affect Hillary Clinton's ratings.
By levelling baseless accusations, Hillary Clinton forgets that sooner or later she will have to answer to the voters, he added.
"There is still some time until the election and new 'sensations' are likely to be used to warm up the electorate. But there is one important thing. The Americans look very close at how electoral promises are kept after the election. If Clinton's accusations remain baseless this will be a serious blow to her reputation," Trofimchuk said.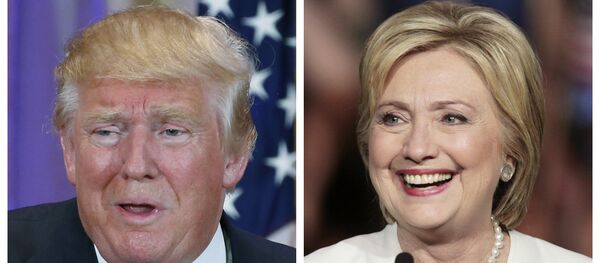 11 September 2016, 11:45 GMT
For the first time, Russia was accused of meddling in the US election after the Democrat National Committee was hacked and their emails published on the WikiLeaks website. According to the leaked documents, the party bosses favored Clinton over Bernie Sanders.
The FBI is running an investigation but some American politicians have accused Moscow of being involved in the hacking. According to some Democratic representatives, Russia may be acting in the interests of Donald Trump, Clinton's main rival in the election.
Moscow has repeatedly denied the allegations of meddling in the US electoral process. In an interview with Bloomberg, Putin said that Russia is ready to work with any US president elected. In turn, Kremlin spokesperson Dmitry Peskov rebuffed the allegations as totally baseless.