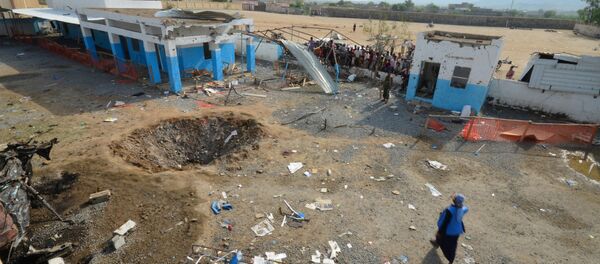 10 September 2016, 21:51 GMT
"UN representatives on the ground there are very few and far between. Which is a pity, because they could they tell the world about the 10,000 people killed and those who were injured as a result of these bombings," François Frison-Roche said, noting that without proper medical assistance available, many of these people were bound to die.
He added that those were very conservative figures which, althought giving a picture of what was going on, still failed to reflect the true scope of damage done to the country.
"I think that [Yemen] has suffered much more than some people want us to believe. This is because the UN simply prefers not to see what is happening, carefull not to antagonize the Saudis who are the main player here, and also the other oil monarchies of the Persian Gulf."
"Saudi Arabia can keep bombing countries like Yemen only because the US and Britain are selling them weapons. This is something that needs to be said loud and clear. 10,000 Yemenis have been killed by US and British bombs rained on their heads. The international community tried to keep mum about what is going on in Yemen because they are selling arms to the Saudis."
He added that the bombs dropped on Yemen by the Saudi-led coalition often fall on hospitals and other civilian targets, forcing the relief organizations working on the ground to pack up and leave.
"This is exactly what the Saudis want: to shove Yemen thirty years back thus making it easy prey for their attempts to  subjugate the country and force it do their bidding," François Frison-Roche emphasized.
Yemen has been torn apart by a war between the government of UN-backed President Abd Rabbuh Mansur Hadi and Houthi insurgents since 2014.
The Houthis are backed by armed forces loyal to former Yemeni President Ali Abdullah Saleh. The Saudi-led Arab coalition has been providing government troops with air support since March 2015.