The airstrike could have only been carried out by the Russian or Syrian military, the White House said, saying it holds Russia responsible.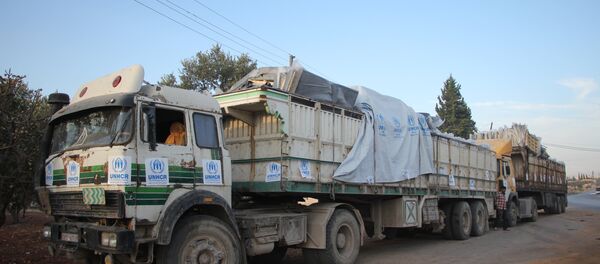 20 September 2016, 11:52 GMT
"All of our information indicates clearly that this was an airstrike," White House Deputy National Security Advisor Ben Rhodes told reporters.
"That means there only could have been two entities responsible — the Syrian regime or the Russian government."
Earlier on Tuesday, the Russian Foreign Ministry expressed outrage at the "flagrant attempts of some foreign backers of armed rebels and terrorists in Syria" to shift blame on the UN convoy to Moscow and Damascus.
"The Russian military personnel in Syria is investigating with the use of means of objective control the circumstances around the attack, which took place on September 19," the ministry said in a statement.
"We are stating with all responsibility that neither Russian or Syrian aircraft carried out airstrikes against the UN humanitarian aid convoy in the southwestern outskirts of Aleppo."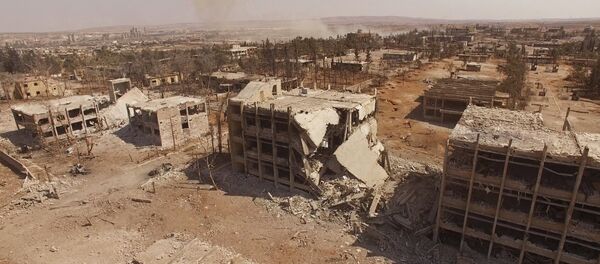 19 September 2016, 23:14 GMT
The UN-Syrian Arab Red Crescent aid convoy traveling to Aleppo province was hit late on Monday. The incident wrecked 18 out of 31 trucks with humanitarian aid on board and killed roughly 20 people, according to the International Federation of Red Cross and Red Crescent Societies.
Over the weekend, US-led airstrikes struck a Syrian Army position, killing 62 servicemen and injuring 100 more. US Central Command has admitted responsibility for the strike, claiming it mistook the Syrian forces for Daesh terrorists. In addition to American fighters, the UK, Australia, Denmark were also involved in the incident.
On Septebmer 9, Russian Foreign Minister Sergei Lavrov and US Secretary of State John Kerry announced a new plan on Syria, which stipulated a ceasefire that came into force last week. It was the first step toward establishing a Joint Implementation Center which would coordinate Russian and American airstrikes against terrorist groups.