On September 20, the scientist presented his book "Science for Innovation: the Cuban experience" and told Sputnik about the role of biotechnology in the country's economy.
"BioCubaFarma is the most successful business group in our country. Recently, they signed an agreement to participate in the high technology sector, for further use of drugs to cure various diseases in Cuba, Russia and the Commonwealth of Independent States (CIS) countries," Fidel Castro Diaz-Balart told Sputnik.
The scientist talked about a Cuban medicine which will be soon launched in Russia and CIS countries, Heberprot-P. According to Castro, it is a "unique product" for the treatment of diabetic foot ulcers.
"Cuban achievements in biotechnology are based on the scientific knowledge and innovation systems present in more than 200 institutions. Cuban universities have played an important role as well in the development of new products," said Castro.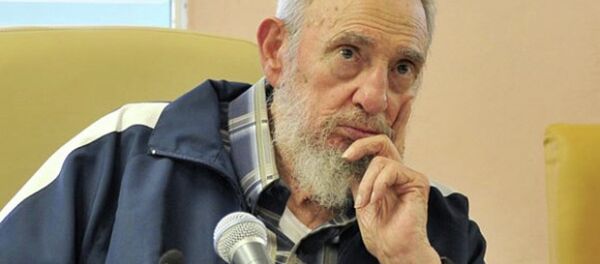 13 August 2016, 18:37 GMT
Castro's book "Science for Innovation: the Cuban experience" introduces the history of innovation in the Caribbean country. According to Castro, the book can be useful for entrepreneurs, professionals and for high technology programmers.
As for Russian-Cuban cooperation, Castro is very optimistic. The scientist explained that a program for scientific and technological exchange, especially in the field of public health, has been already set up.
"For several years, both countries have exchanged information. Cuba has strong ties with the Russian Ministry of Health. Some drugs are already present on the market, while others are in the process of getting there," the Cuban scientist told Sputnik.
As part of this international meeting, the Skolkovo Foundation and the Cuban pharmaceutical company BioCubaFarma signed an agreement on technological trade.
In Moscow, the son of Fidel Castro also met with Russian Prime Minister, Dmitry Medvedev, and presented the book to him.
Fidel Castro Diaz-Balart is familiar with Russia as he studied in Moscow. In 1974, under the name Jose Raul Fernandez he graduated from Moscow State University with a degree in nuclear physics. Later, he received a diploma at the prestigious Kurchatov Institute of Atomic Energy. The fake name was taken for security measures. After finishing studies, Castro returned to Cuba, where he worked as the Cuban government's advisor on scientific matters.