MOSCOW (Sputnik) — There are two new festival locations. One of them is Izvestiya Hall, one of the biggest concert venues in Moscow, where the final of the Art Vision contest's VJing nomination will be held.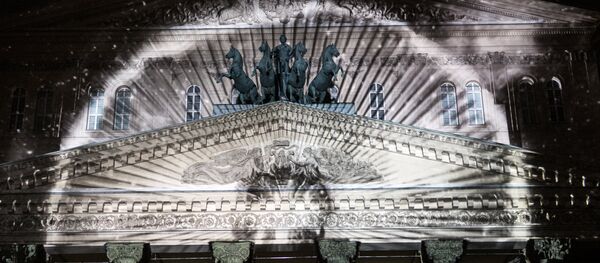 2 October 2015, 15:01 GMT
The second is the main building of the legendary Lomonosov Moscow State University, at which the opening ceremony will take place. It is the first time in history that super HD video mapping content, which will be shown on the 40 000 square meter MSU façade, is made not from separate images and various video fragments but entirely created by 3D animation designers as a story.
Another big premiere will be at the Grebnoi Channel venue. The performance brings together water, fire, laser and pyrotechnic shows and two big projections: Russian cities on the 50 meter high construction and the colossal bridge on the water surface. This mix is unique even for the world's biggest festivals of light.
The Art Vision contest will traditionally unite artists from different countries as the world's biggest projection mapping and VJing competition. It also involves top specialists in lighting design, architecture and VJing.
Leading specialists in lighting design and projection mapping from across the world will take part in educational program in the Digital October Centre on 24 and 25 September. Guests will share their experience in organization of big projects, tell about pitfalls in organization process and discuss newly designed tools and up to date trends. The educational program includes workshops, panel discussions and lectures.