On Monday, 43-year-old Keith Scott, a father of seven who suffered from a traumatic brain injury potentially impairing his ability to respond to requests by police officers was shot and killed after failing or refusing to comply with police orders with debate raging on as to whether the slain man had a gun.

24 September 2016, 15:55 GMT
Witnesses at the scene claim that Scott had a book in his hand and was shot by a white officer leading his brother to say that "all white people are the devil, all white cops are the mother---ing devil" and causing a community to surge into an uproar over the death of another potentially unarmed black man.
Charlotte-Mecklenburg Police allege that Scott had a gun in his hand at the time of the police stop and refused to drop the weapon when ordered by police officers and identified the plain-clothes officer who shot the man as Brentley Vinson, who is also black counter to the narrative advanced by protesters.
Video released by Keith Scott's wife on Friday neither confirms nor denies the police account that Scott had a gun, but does establish that he was indeed shot by Brentley Vinson. Some social media users have frozen screen frames of the video suggesting a black spot corresponds with a photo of a gun at the scene acquired by local news agencies earlier this week while others contest that account.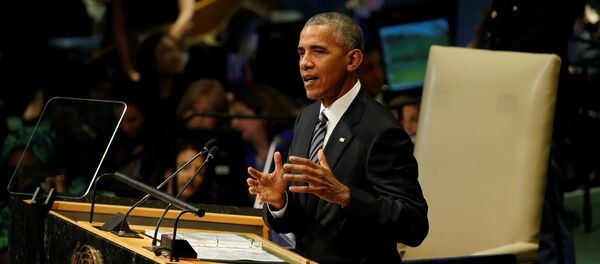 24 September 2016, 17:47 GMT
Although Scott likely was armed based on what video and photo evidence there is, the narrative has flipped to one questioning why another unarmed black man has been killed at the hands of police with Hillary Clinton saying Keith Scott has become "yet another name" of a black man shot by police signaling her position in concurrence with protesters and with a Clinton surrogate Bakari Sellers telling CNN's Don Lemon from the protest, "it's a shame we still have to keep saying 'Black Lives Matter.'"
Yet despite the racial tension imbued in the discussion and protests of Keith Scott, something very mysterious has occurred in the US news outlets – they have simply decided not to say that the officer who shot the 43-year-old was himself black or have buried it as a secondary note late in stories.
Fox News' Howard Kurtz pointed out this anomaly in a Friday editorial noting that not until the 31st paragraph of a Washington Post story was this core fact relayed with the New York Times identifying the officer who shot Scott in paragraph 30 while the Wall Street Journal slid the identity of the officer into the last sentence of the second to last paragraph.
It seems that the television news outlets haven't been much better in relaying the details with CNN mentioning Vinson's race 13 times, Fox News five times and MSNBC going completely off the rails refusing to mention the critical detail at all potentially in fear it may skew the pre-scripted narrative.
24 September 2016, 16:38 GMT
"I've talked to journalist friends who were unaware that the Charlotte officer is black. And the story has been lumped together with the earlier fatal shooting by a white officer of Terence Crutcher, a black Tulsa resident who police say did not have a gun," said Kurtz.
In the meantime, another young black man was killed during rioting on Tuesday, a reporter was almost tossed in a burning fire, and dozens have been injured and assaulted with police stating that 70% of the disruptions caused by protesters have been linked to individuals with out-of-state IDs.
It may be impossible to know what would have occurred had the media reported on the story differently, but the manner in which the fact has been hidden either raises questions about the intentions of the major news media outlets or, if it is out of concern about mentioning race, it begs the question whether political correctness may sometimes be lethal.